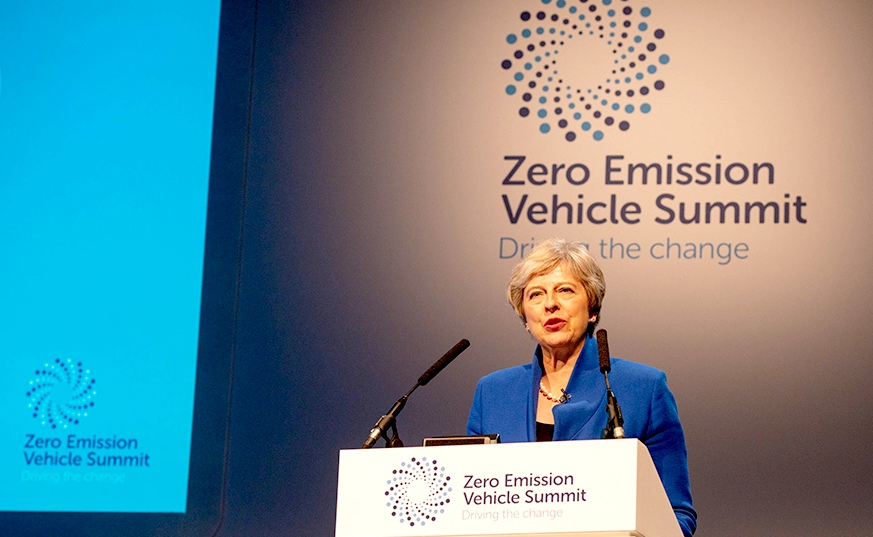 The Fuel Cells and Hydrogen Undertaking (FCH JU) are working to facilitate the market introduction of FCH technologies in Europe. In the UK, the Office for Zero Emission Vehicles (OZEV) is seeking to accelerate the transition with calls for Feasibility Studies and Collaborative Research projects in a funding competition that opened in March of and closes in April 2021.
Comfort is the enemy of Progress. Are we comfortable enough with the present state of the art, to sit back and rest on our laurels, or are we uncomfortable enough to want to explore the possibilities that new tech might offer?
Responding to and in preparation of calls for proposals to speed up development, aimed at transitioning of the UK and Europe to zero emission vehicles by 2035, we are considering applying for grant funding for a feasibility study in any UK/European calls that are suitable, to help us analyze and evaluate the potential of a project to develop bolt-on range increasing kits for electrically propelled delivery vans and emergency vehicles.
These vehicles might be adapted with any number of conversion options. There is nothing new in that. But so far such thinking has not proved popular with OEMs or fleet operators. Or we'd see range extending options, like the onboard petrol generator that BMW i3 discontinued. Granted that this example is an IC backward step in renewable terms.
A solution that we would like to explore is a standard conversion option, making it an easy choice to make for fleet operators and haulers, rather than a separate design exercise for each vehicle. Hence, a logistical nightmare for the end user to contemplate.
The proposed feasibility study is aimed at supporting the process of decision making for ourselves as the innovators, and for interested stakeholders as onlookers competing against other OEMs, in an "infrastructure insecure" and uncertain market.*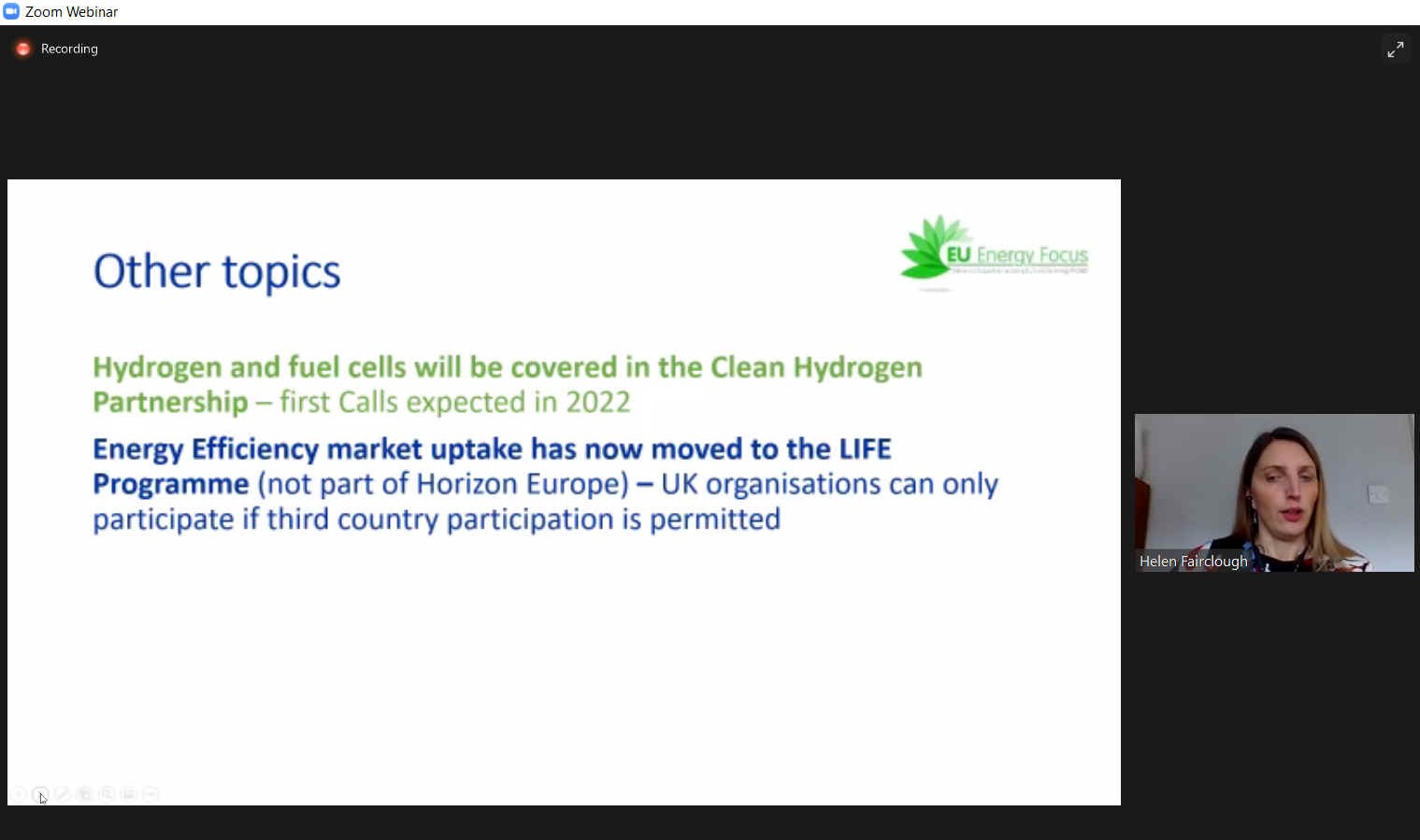 Horizon Europe in not open to UK concerns and calls are backward in coming forward - not until 2022. SMEs in particular are unlikely to get a look in, not unless they own indispensable IPR.
We aim to achieve this by uncovering the:
- Strengths
- Weaknesses
- Opportunities and
- Threats that the proposed study should reveal
The proposed study will also help the applicant identify the resources (other than capitalization) needed to make a project like this happen, in so doing revealing scenarios for success in the highly competitive automotive sphere.
This study will help the applicant decide to work either individually or collaboratively with other industrial or research organizations, before conducting any follow on projects, that are likely to be substantially larger - than this proposal seen here in basic outline:
1. Confirm size of a/the proposed 'Range Extending Kit' (RE) for commercial delivery vans up to 3.5 tonnes (1st part of study). By this we mean conduct a survey of the vans and/or emergency vehicles (e.g. ambulances & fire trucks) currently or soon to be available to customers, for suitability of a RE, in that there is the physical space to install the special connectors and dual-fuel accessories (to assist roadside recovery) and contain a reasonable capacity Hydrogen Battery, to be able to significantly increase the operating range of the target vehicles.
The survey will identify those vehicle formats (included in the study) that are unsuitable to accept the RE. This is an important part of the proposed feasibility study, where it will give a useful heads up and steer to vehicle manufacturers, as to the production of more adaptable vehicles in a changing market. Such independent assessment might also provide governments with a guide as to the continuation or even enhancement of certain EV grants, such as to encourage the design and production of vehicles with potentially longer ranges.
In the UK at present (Budget March 2020) 'plug-in' grants of 35% are available on certain vehicles (up to £3,000 for 2,500 kg and £6,000 for 3,500 kg GVW) provided the CO2 emissions are less than 50g/km and can travel at least 96km (60 miles) without any emissions at all.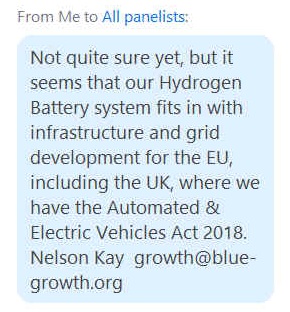 It is worth attending instructive webinars, before considering expending further effort, either securing IPR or building a network of contacts, by way of consortium building. You will find the Chat and Q&A functions almost as useful as treading the floor in real live exhibitions and events.
SMALL VANS

Maxus eDeliver 3 (short wheel base variants)
Nissan e-NV200
Renault Kangoo ZE
Renault Zoe Van

LARGE VANS

BD Auto eTraffic
BD Auto eDucato (3.5 tonnes)
Citroen e-Dispatch
Ford E-Transit
LEVC VN5
MAN eTGE
Maxus eDeliver 3
Maxus eDeliver 9
Mercedes-Benz eVito
Mercedes eSprinter
Peugeot e-Expert
Renault Master ZE
Renault Trucks Master ZE
Vauxhall Vivaro-e
Volkswagen ABT e-Transporter
LDV EV80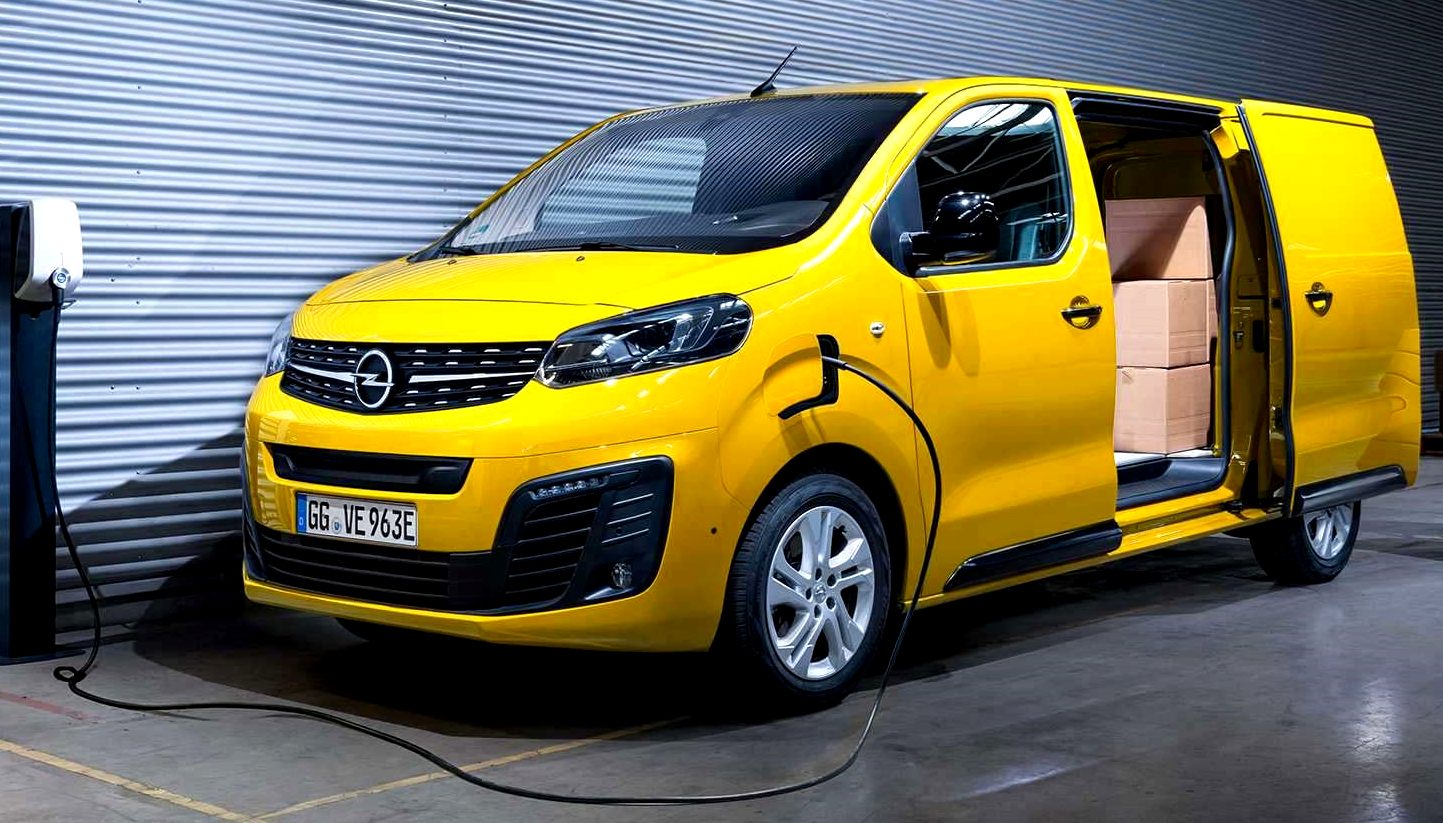 STELLANTIS N V: OPEL VIVARO - Where this multinational group plan to launch small H2 powered vans this year, the lack of refueling stations is seen to be the main drawback, but this tiny detail has not stopped some manufacturers from investing money into hydrogen fuel cell vehicles. The latest (04-04-2021) being Stellantis.

The newly-formed multinational automaker has confirmed it will launch a family of hybrid hydrogen-powered small vans for the European continent. These will reportedly be sold under the Peugeot, Citroen, and Opel (Vauxhall) brands with first deliveries expected to happen as early as the year's end.

Automotive News reports the vans should provide a range of about 250 miles and short fill-up times of about three minutes. You've probably noted that we used the term "hybrid hydrogen" and this is how Stellantis describes its new FCEV powertrain.

Their system is said to use three 700-bar hydrogen tanks without compromising the cargo space. Automotive News reports "a small fuel cell stack powers an electric motor, which can be recharged by a version of the plug-in hybrid system" currently in use by a number of Stellantis brands. If the vehicle runs out of hydrogen, it can travel about 31 miles on electric power using a small battery located under the passenger compartment. Though 31 miles does not give one much of a reserve.

The hydrogen vans are based on the existing electric vans of the automaker, which reduces the R&D costs significantly. The new powertrain has been developed in Ruesselsheim, Germany, and could eventually be adopted for use in passenger cars.

"It's the best of both energies," Carla Gohin, senior vice president of research and innovation at Stellantis, commented to Automotive News. "We aim to build this through real customers, real business-to-business customers."
It is anticipated that with a bolt on RE Kit, the Stellantis may gain from dual-fuel capability (and roadside recovery), with the addition of a range extending Standard Energy Cartridge, but in this case with a lithium chemistry as the storage medium. By this means the hydrogen fuel cell vans may operate over realistic distances as a battery-electric, where no hydrogen infrastructure yet exists. The RE Kit is thus future proofing for both OEMs and fleet operators, where 'Infrastructure Security' remains an issue.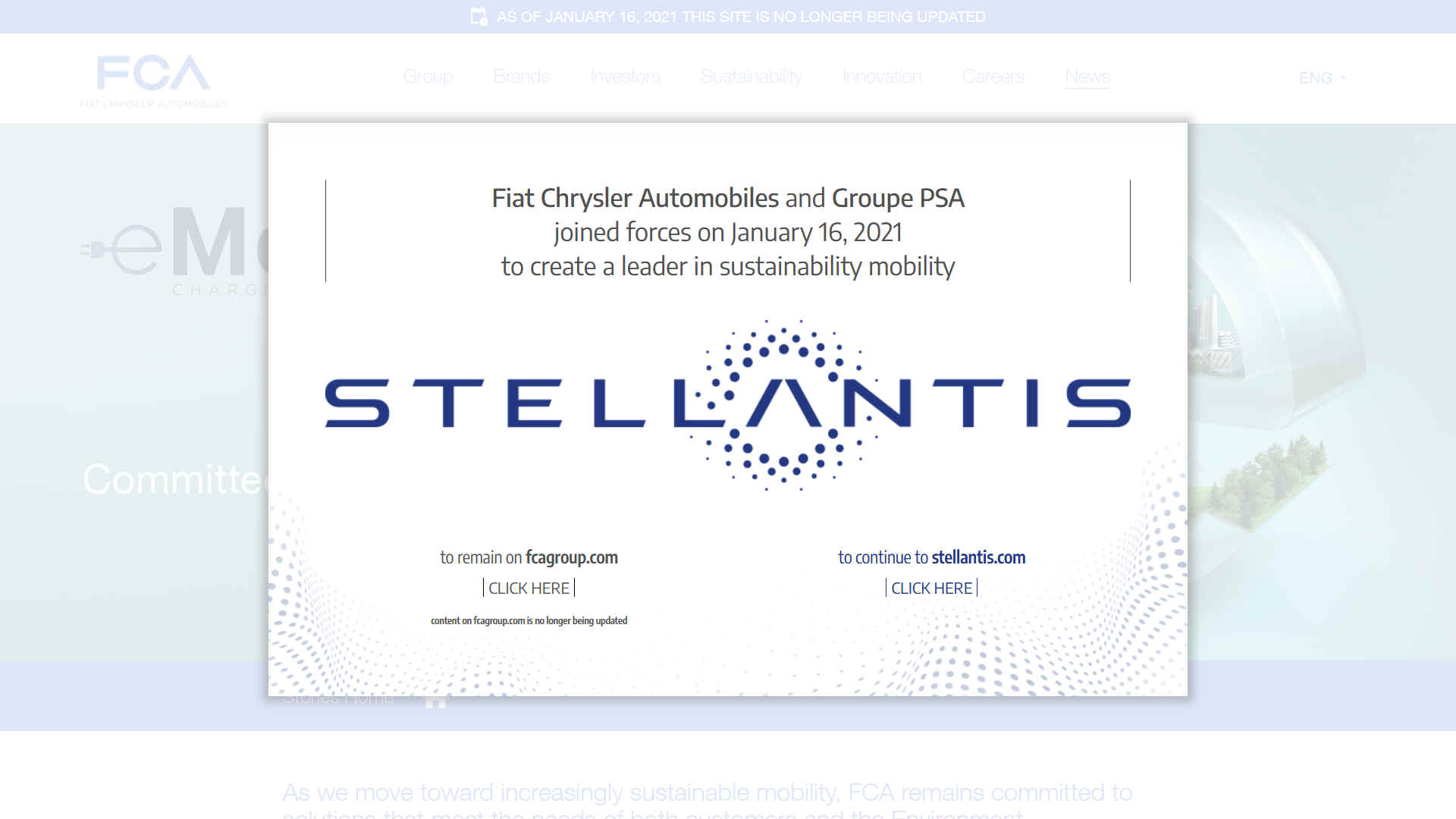 GREEN NEWS APRIL 2021 - Stellantis is aiming to move 400,000 hybrid and electric vehicles by the end of 2021 – or nearly three times the 139,000 units it sold in 2020. The statement comes from Stellantis Chairman John Elkann, in a letter to the group's main shareholder Exor, per Reuters.

The jump in sales of EVs will come with the help of 11 new models.

The shift is important for a number of reasons. Fiat Chrysler Automobiles revealed that they spent over 300 million euros ($362 million) on green credits last year in Europe, most of which went to Tesla. The FCA part of the group bought more than $362 million worth of CO2 credits last year in Europe alone. Indeed, the company committed to spending about $2 billion in credits between 2019 and 2021. Money that could have been invested better in their future and products.

Last year, Tesla made $1.58 billion in revenue from selling credits, almost three times their profit of $721 million the same year. Honda also bought from Tesla, according to Schmidt Automotive Research. If FCA, Honda and other OEMs had invested in the Standard Energy Cartridge concept in 2020 (for example), they'd only have needed to worry about modifying their mechanical drivetrains on vans and trucks, probably negating payments of carbon credits to competitors. It's hardly surprising that shareholders are getting jumpy!
What is not known about these vehicles, is if the mechanical layout and design might be amenable to be quickly adapted to accept the proposed Hydrogen Battery range extender and EV rapid roadside service system, by way of a standard Kit.
The proposed feasibility study is to be based on such a survey. The aim being to define a 'Hydrogen Battery' formula to encompass as many existing production E vehicles as practical, such that cities and larger towns might benefit from cleaner air, in tandem with deliveries to outlying districts where greater range is needed.
2. Identify a suitable sample town of a containable size (given the scope of the proposed budget) and conduct a survey (in overview) for service facilities that are currently available for electric vehicle recharging via the plug and charge method, particularly as applies to delivery vans and fleet operators or service providers. The aim being to identify the infrastructure shortfall in conventional plug in charging. (2nd part of study)
Such a survey will include on-street charging points, car parks at supermarkets, large companies and council offices. Plus any facilities at multi-story vehicle parking buildings.
This will help us to decide what is needed and how the present proposal might fit in with the plan to transition from fossil fuels to renewables, by revealing the weaknesses of the present energy supply infrastructure as they currently are.
3. Conduct a survey (in overview) of the representative town for servicing/refuelling of hydrogen powered electric vehicles, particularly as relates to delivery vans and fleet operators. As per 2. above, the aim of this part of the feasibility study is to identify any obvious infrastructure shortages. (3rd part of study)
This should help to define the opportunity that the present move to zero emission vehicles offers to innovators like the applicant, where range limitations and energy supply improvement, may, or may not, be overcome via emerging technologies, such as the proposed RE kit.
4. Having confirmed a suitable physical size and the range multiplier needed for fleet operators to increase their operating range, such as to be competitive with the diesel engine vehicles they are looking to replace, to then construct a representative Hydrogen Battery (pack or cartridge) for the RE for confirmation of physical size and fitment only, together with loaders and special connectors to ensure that such a Kit may be fitted to the majority of the E Vans surveyed. (4th part of study), including positioning of a demonstrator pack within one of the most popular vehicles by way of proof of the concept. Save that the development of the workings of the RE pack and loaders are not part of this study, that is concerned with feasibility only.
5. Assuming that the previous stages reveal a way to market, to then draft, file and progress a suitable patent application, or applications and other IP protections as part of a business model, such as to be able to attract additional funding so to enable the applicant to commercialize the system, with the forward hope of working in collaboration with either fleet operators, OEMs and/or energy utilities as a technology developer and supplier of intellectual property rights, based on an IP portfolio designed to promote long-term mobility sustainability.
Should the proposed study reveal a lack of opportunity, that the reasons for that decision might be defined, for example, it may be that industry resistance to change is too entrenched in current thinking at this point in time, such as to warrant the cost of patent filing where such technology is unlikely to be taken up.
There are many reasons for competitors in a developing market avoiding change, such as policies not being developed sufficiently to require manufacturers to consider alternatives. One such policy is the Automated and Electric Vehicle Act 2018.
6. The business model developed from such proposed feasibility study, is to include or allow for expansion of the concept to off-board support, though such inclusion (at this stage) will not be the subject of this present (proposed) feasibility study.
7. The application's success or failure, may serve to underscore any deficiencies of policies, or policy making, aimed at accelerating transition from one technology to another. Where politicians may have on their political agendas, but may have been having difficulty achieving their goals.
This may be so where fast onboard battery cartridge systems have been a development offering since 1991. Including self-loading versatility, but have so far eluded mass acceptance, even with the likes of Better Place. Granted that Shai Agassi's system did not include hydrogen or self-servicing conversion kits, but where such inclusion would have been a logical progression, had that vision blossomed into a going concern. Logical, in that with a team of innovators, the solutions that eluded Better Place, such as to become commercially successful, would (more than likely) have been invented, in a series of inventive steps, rather than one all encompassing technological epiphany.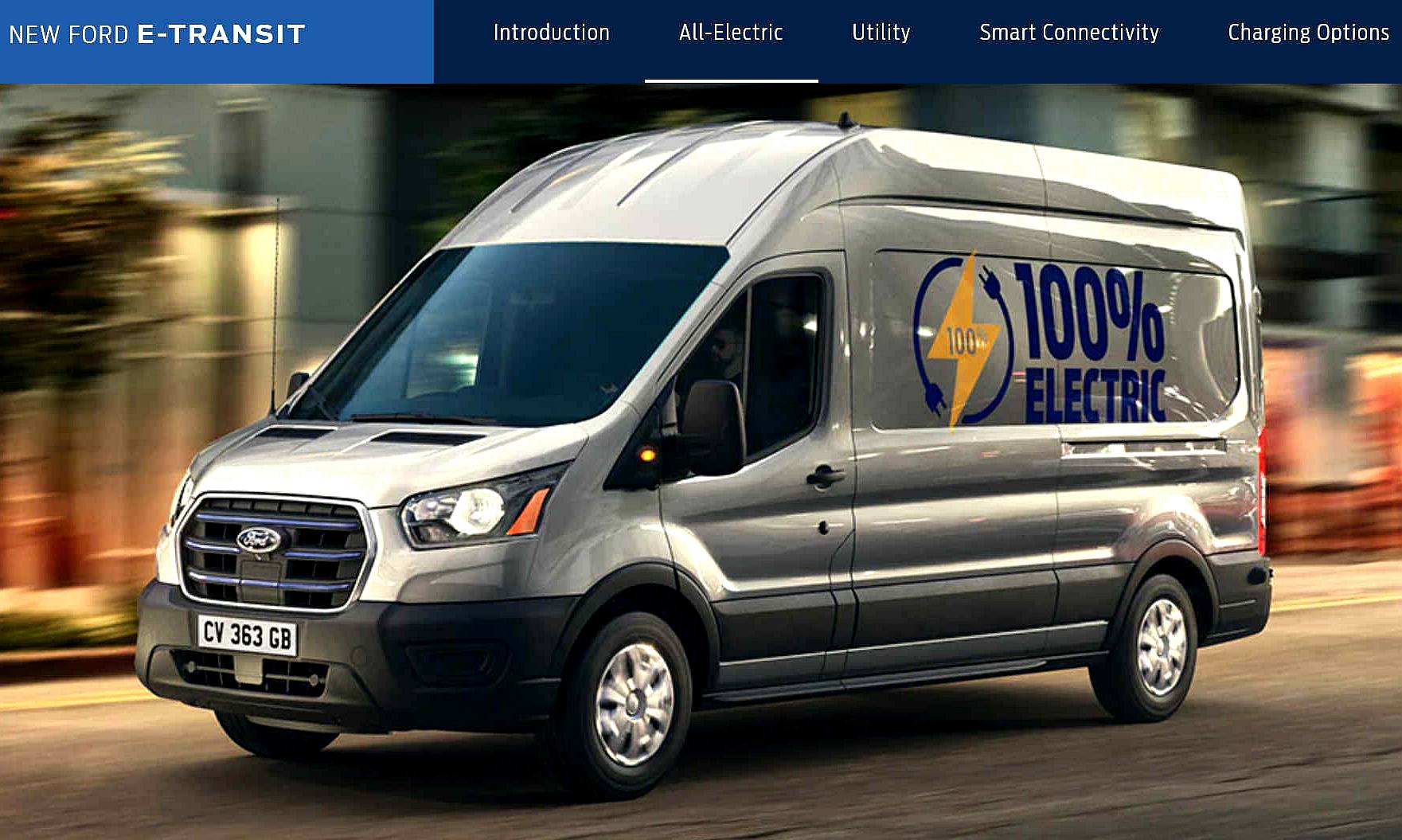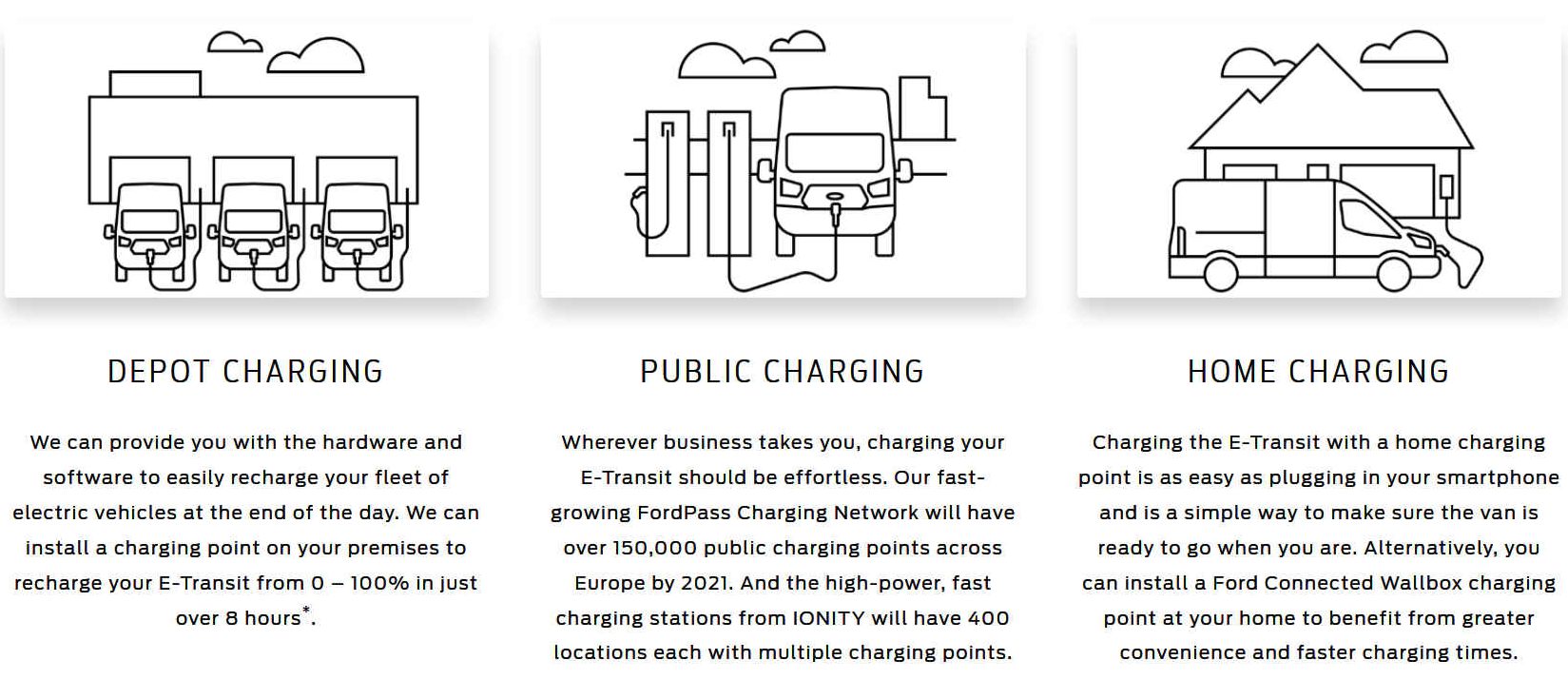 FORD E-TRANSIT - This 400-volt, 67 kWh battery-powered electric vans is claimed to deliver up to 217 miles (350 km) of driving range on a single 8 hour full charge. The range is quoted for the best performing variant, Medium Wheel Base, Medium Roof Cargo Van, 390 Series, Speed Limited to 90kph. Targeted estimate range applies to an available configuration (and is based on CAE modeling using WLTP test procedure). Actual range varies with conditions such as load to be carried, external elements, driving behaviors, vehicle maintenance, lithium ion battery age, etc.
It is anticipated that with a RE kit, the E-Transit might gain at least 100 miles of extra range, plus rapid recharging of the Hydrogen Battery (and roadside recovery), so extending the range of this famous workhorse almost without limit, provided that there are sufficient charging facilities at strategic geographic locations.
UK OEZV CALL FOR ONBOARD PROPOSALS - MARCH-APRIL 2021
In this UK, March-April call, the limit is 3 partners. Though it is not a requirement to have collaborative partners and we might work alone, we are interested in working with fleet operators of electrically propelled delivery vans, emergency vehicles and small trucks under 3.5 tons with a view to resolving their present limited range dilemma. We are also keen to work with academics well versed in hydrogen and fuel cell technology.
As to the present call under consideration (@ 30-3-21), the above proposal potentially ticks all of the boxes in the 5 Challenges that the OZEV are interested in.
Challenge 1 – Improve ZEV range capability

Advances in zero emission on-vehicle technologies to improve EV range anxiety by enabling increased vehicle range, efficiency or capability.

Challenge 2 – Increase adoption of small commercial ZEVs

Tackling on vehicle technological challenges associated with under 3.5tonne commercial vehicles, including fleets, to improve operational performance or total cost of ownership.

Challenge 3 – Support transition to zero emission for special use vehicles

Technological solutions for special use vehicles, such as emergency vehicles, which are technically challenging but need to make the transition to zero.

Challenge 4 –Improve ZEV user experience

Technologies which improve ZEV user experience by for example improving mobility, road-side recovery or their use in a recreational setting.

Challenge 5 –Improve sustainability of ZEV

Solutions that enable battery recycling facilities.
THE FLEET OPERATORS DILEMMA - Many delivery companies are trying to do the right thing, but cannot because the range of most medium weight electric vans are limited, and there are limited service facilities in cities. The Office for Zero Emission Vehicles is calling for proposals in a competition posted in March, with applications required by April 2021. With most commercial EVs having a low range or payload from lithium batteries, examples we have used to illustrate this point are:
MAN eTGE - 86 miles @ (up to) 1.75 tonnes
Mercedes-Benx eVito - 93 miles @ 1073kg
Mitsubishi Fuso eCanter - 62 miles 4.2 tonnes
Nissan e-NV200 - 122 miles @ 660kg
Peugeot ePartner - 100 miles @ 636kg
BOLT ON RANGE EXTENDING TECH
On the basis that OEM's are competing against each other, and almost to a man without wanting to change their manufacturing thinking, there appears to be a gap in the market for innovative technology to increase the range of existing production vehicles. Especially those powered by lithium batteries, such as the Ford E-Transit.
Hydrogen and fuel cell combinations have been used as range extenders before on vans and buses, but they are cumbersome. The difference being that the present proposal is for a standard cartridge that is stackable and discrete. The other main feature being exceptionally fast demount-ability. Very useful for roadside recovery, for example. Where the AA, RAC, Green Flag, etc., might quickly provide a fully recharged energy cartridge from onboard stocks. This is only possible because of the unique onboard loading system that is patent-able with applications pending the outcome of funding applications.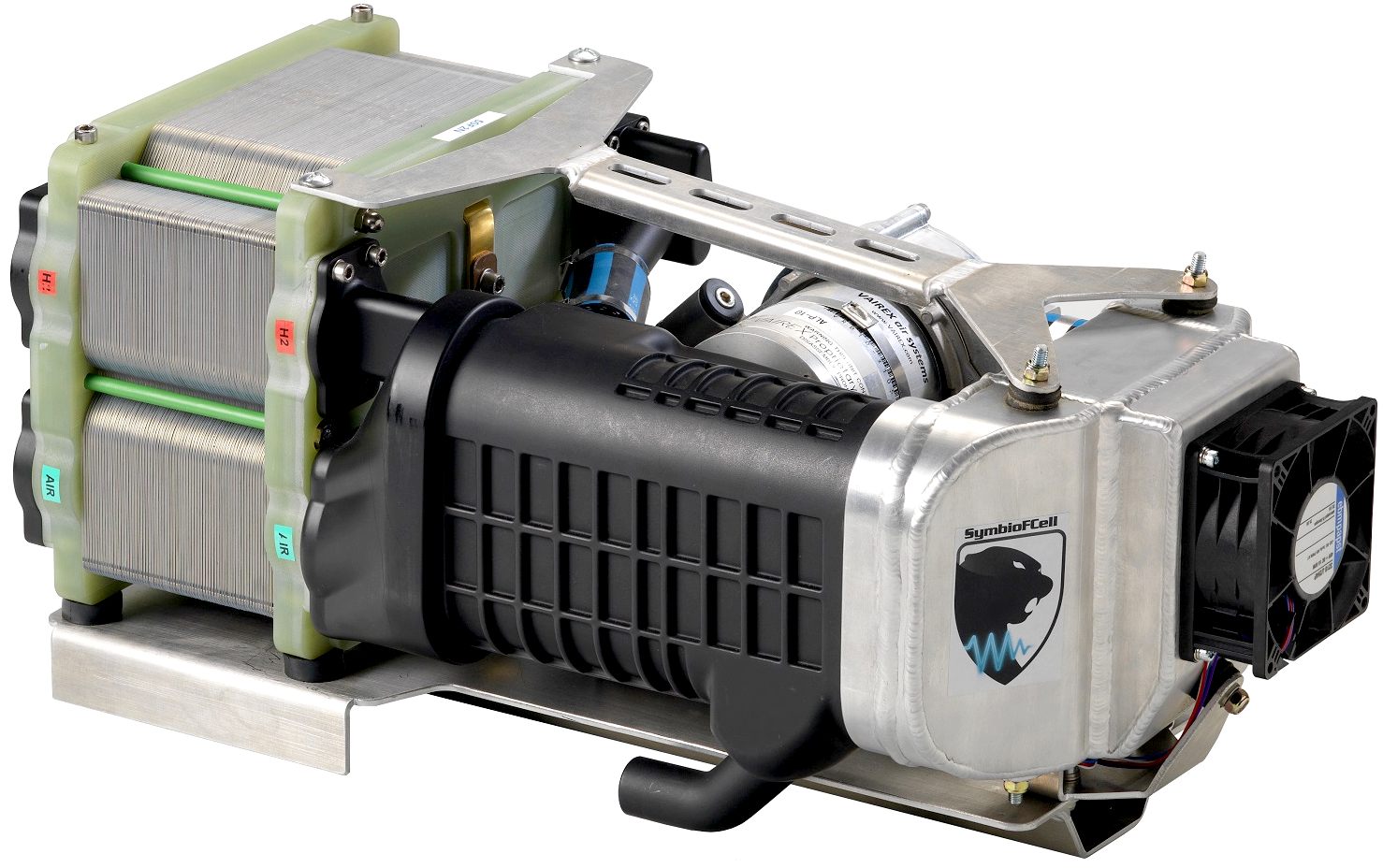 EXAMPLE FUEL CELL STACK - This Symbio FCell, was used as a hydrogen-powered range extender, based on a system of 5-kW stacks. These can be arranged (sized) to provide output from 5 kW to 20 kW by using one to four modules. In one experiment a 5kW unit was allied to a reinforced 1.3-cubic-foot (38-liter) tank holding 3.8 pounds (1.72 kg) of hydrogen compressed at 5000 psi (35 mPa). When used by La Poste on a Renault Kangoo ZE driven by a 44-kilowatt (70-horsepower) electric motor, and a 22-kilowatt-hour lithium-ion battery pack, the increase is range was claimed to be a further 100 miles. At full power, roughly 0.7 lb 0.1 lb (0.3 kg) of hydrogen consumed per hour.
Recharging might be accomplished a number of ways. To begin with, using the currently available high pressure and cryogenic supplies. But later, using an exchange system. And later still, using off-board service stations that might cope with vans and trucks in a city or motorway situation. Please note that such expansion is not part of the presently proposed feasibility study. But is planned for as a forward development block in terms of off-board infrastructure support.
We can do this because we are not asking OEM's to alter production lines at all. Or, that they may do so relatively easily in the future, but only as part of ordinary vehicle development, should the range extending ability we propose becomes industry accepted, and thus proven technology.
The target, initially, is to double the range of existing vehicles using a bolt on system as a kit, such that the proposed hydrogen fuel cell combination makes EVs with lesser range and practicality, competitive with their diesel counterparts in range, but also in terms of total cost of ownership, where hydrogen fuel cells are virtually 100% recyclable.
We don't offer range improvement by reducing the mass of the vehicle, where very limited advantage in terms of efficiency is obtained on commercial vehicles, especially so with goods deliveries (including parcel & post), where you either have the fuel to move a load a longer distance, or you don't. Passenger vehicles will benefit more from exotic materials, rolling resistance and aerodynamics. But even so, there are limits. We do however, hope that OEMs will deal with these improvements as a matter of course.
The proposed study will not take into account the cost of producing hydrogen and distributing it, save for touching on the subject of the potential for an exchange system - which is an off-board subject. We are concerned with extending the range of the identified EVs and providing energy to vehicles equipped with the system, on the basis that the hydrogen support network has increased substantially over the last 5 years and shows every sign of continuing to do so.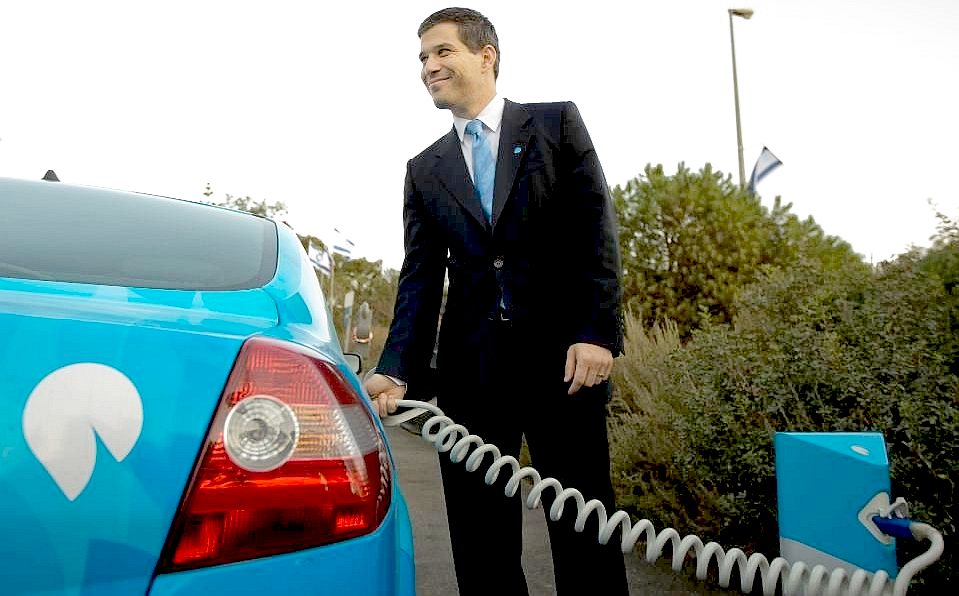 LEARN FROM PAST FAILURES - There is no point re-inventing the wheel. The Better Place system showed us how not to do it. Though, similar systems are springing up in many countries, especially China, even though they lack versatility, such as backwards and forwards compatibility, to accommodate new technology as it is developed.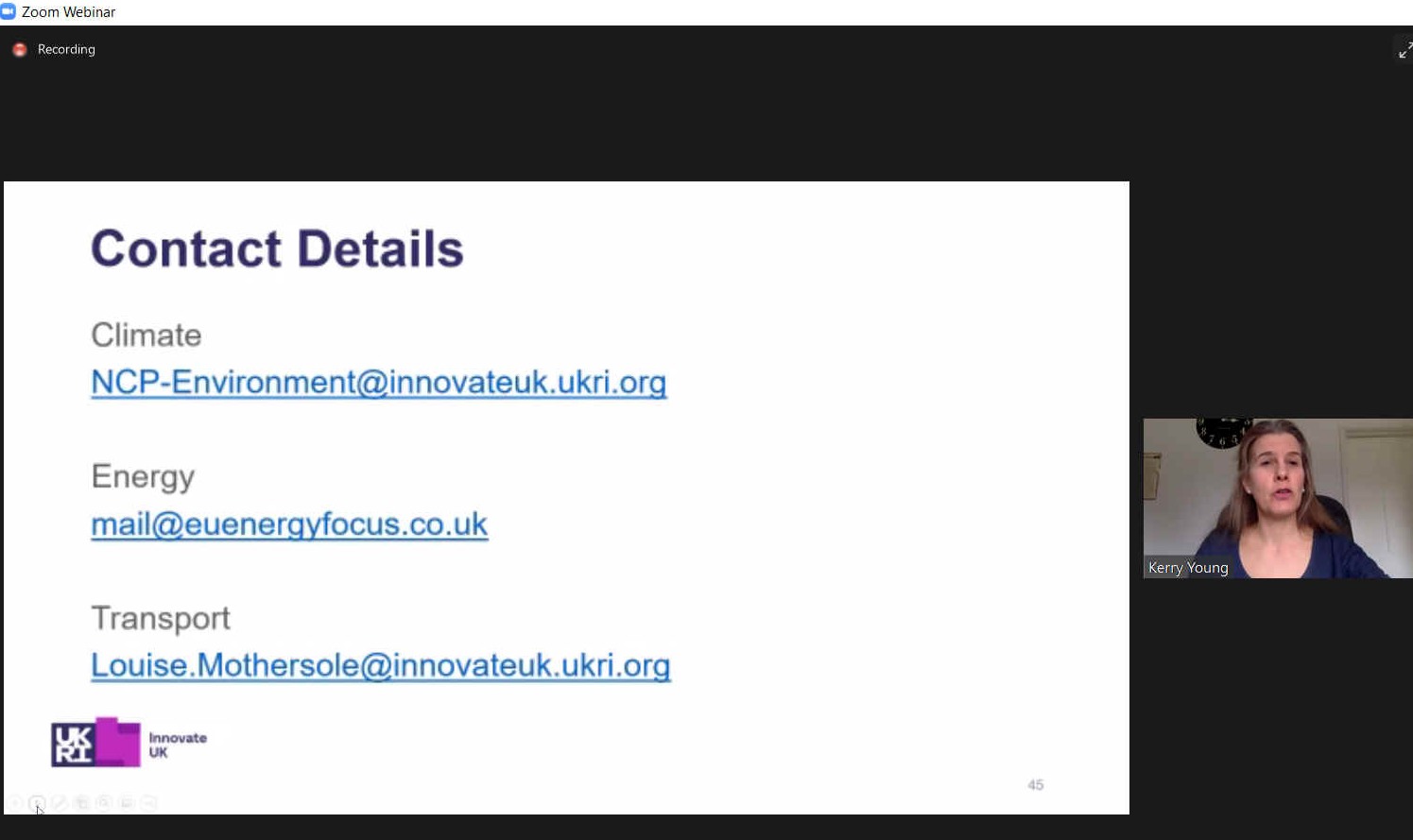 Some useful contacts, if you need advice from UKRI. But, don't hold your breath. We have found that response times can be weeks. It's as if there are no deadlines to meet. We asked for information as to funding and what may qualify as the 30% match funding requirement, from startups, that do not yet have generous credit facilities, but have premises, equipment, IP and management skills to offer. It seems that the agenda is to run some potential applicants into the buffers.
Hydrogen production and distribution;
Fuel cell adaptation;
Hydrogen cryogenic and compressed gas storage;
Connectors, gas and electrical;
Mechanical handling;
Vehicle operators
* Uncertain, in that Asia is changing gear to invest in South Korean conglomerates Hyundai Motor and SK Holding recently announced multibillion-dollar investments that may bridge the gap between hydrogen dreams and reality. China raised hydrogen's profile in its latest five-year plan, with a political need to make hydrogen work, and they potentially control the value chain for renewables and EVs. Yet, we have the European Battery Alliance, sending out different signals.
LINKS & REFERENCE
https://www.carscoops.com/2021/04/stellantis-wants-to-triple-its-sales-of-electrified-vehicles-in-2021/
https://www.carscoops.com/2021/03/fca-bought-362-million-worth-of-co2-credits-in-europe-last-year-mostly-from-tesla/
https://www.marketwatch.com/articles/asia-goes-big-on-hydrogen-power-what-that-means-for-electric-vehicles-51617357600
https://www.msn.com/en-gb/cars/news/stellantis-launching-hydrogen-small-vans-in-europe-this-year/ar-BB1fghyz
https://www.gov.uk/government/news/plug-in-vehicle-grants-update-following-todays-budget
https://www.ford.co.uk/future-vehicles/new-e-transit
https://www.scopus.com/record/display.uri?eid=2-s2.0-85066440202&origin=inward&txGid=d85c3b4577bb9ed5c53862cb195a9e19
https://www.researchgate.net/publication/333365958_Intelligent_Hydrogen_Fuel_Cell_Range_Extender_for_Battery_Electric_Vehicles
https://pureportal.coventry.ac.uk/en/publications/intelligent-hydrogen-fuel-cell-range-extender-for-battery-electri
https://www.autocar.co.uk/car-news/new-cars/renault-launches-hydrogen-range-extender-electric-kangoo-and-master-vans
https://www.mdpi.com/2032-6653/10/2/29/htm
https://www.greencarreports.com/news/1089195_hydrogen-as-electric-car-range-extender-french-tests-start-soon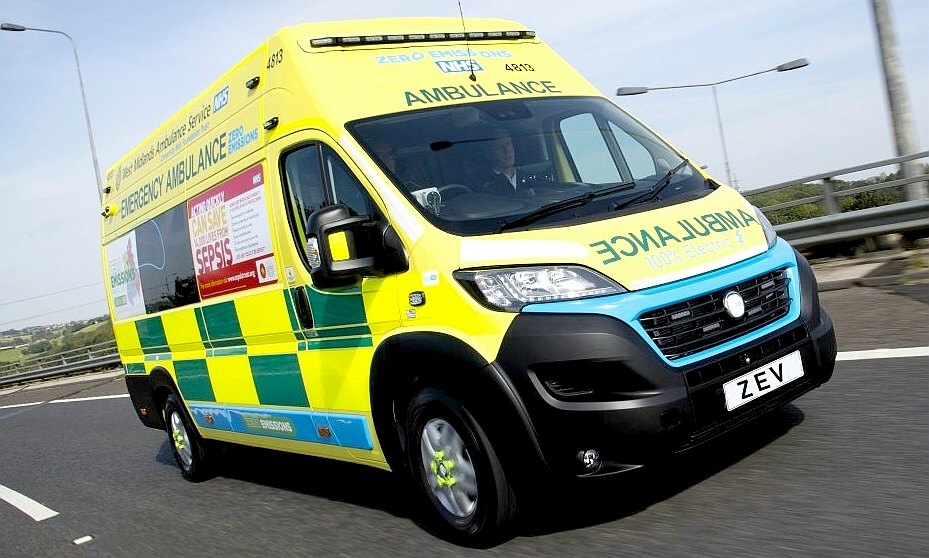 FIAT DUCATO CONVERSION - West Midlands Ambulance Service University NHS Foundation Trust, are one of the first in Europe to introduce an electric ambulance.
Powered by lithium-ion batteries situated in the underside of the all-electric ambulance floor pan, this converted Fiat Ducato has a power output of 129bhp (96kW). It has a top speed of 75mph and can achieve a range of 105-110 miles with a recharge time of 4.25 hours based on lithium batteries.
Ambulances like this could benefit from another 200-300 miles in range with the addition of an RE (Range Extending Kit) Hydrogen Battery accessory, and near instant refueling times of just a couple of minutes. For this present proposed feasibility study, we are aiming to double the range and add roadside recharging (servicing) capability.
Please use our A-Z INDEX to navigate this site
This website is provided on a free basis as a public information service. copyright © Climate Change Trust 2021. Solar Studios, BN271RF, United Kingdom.