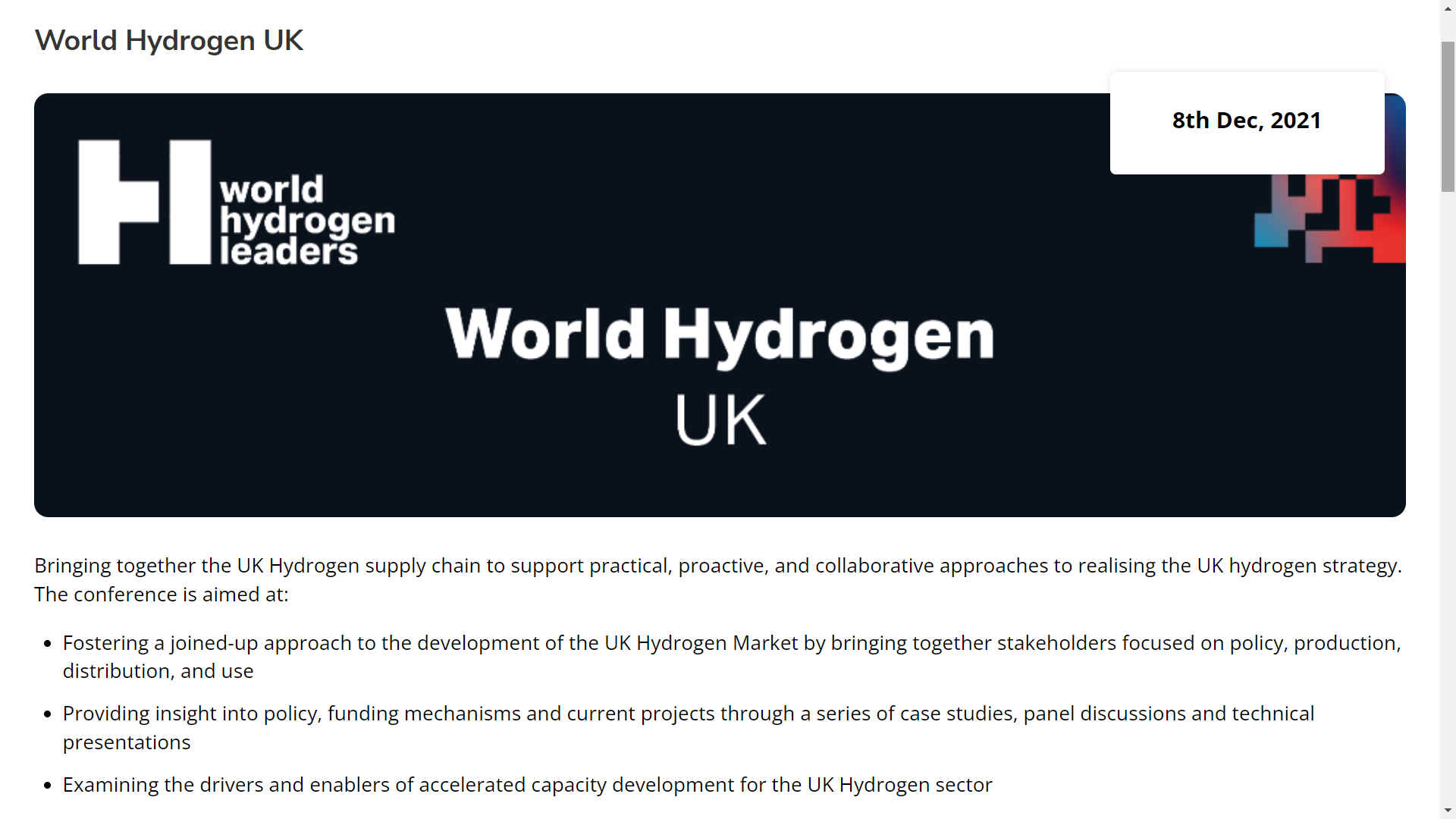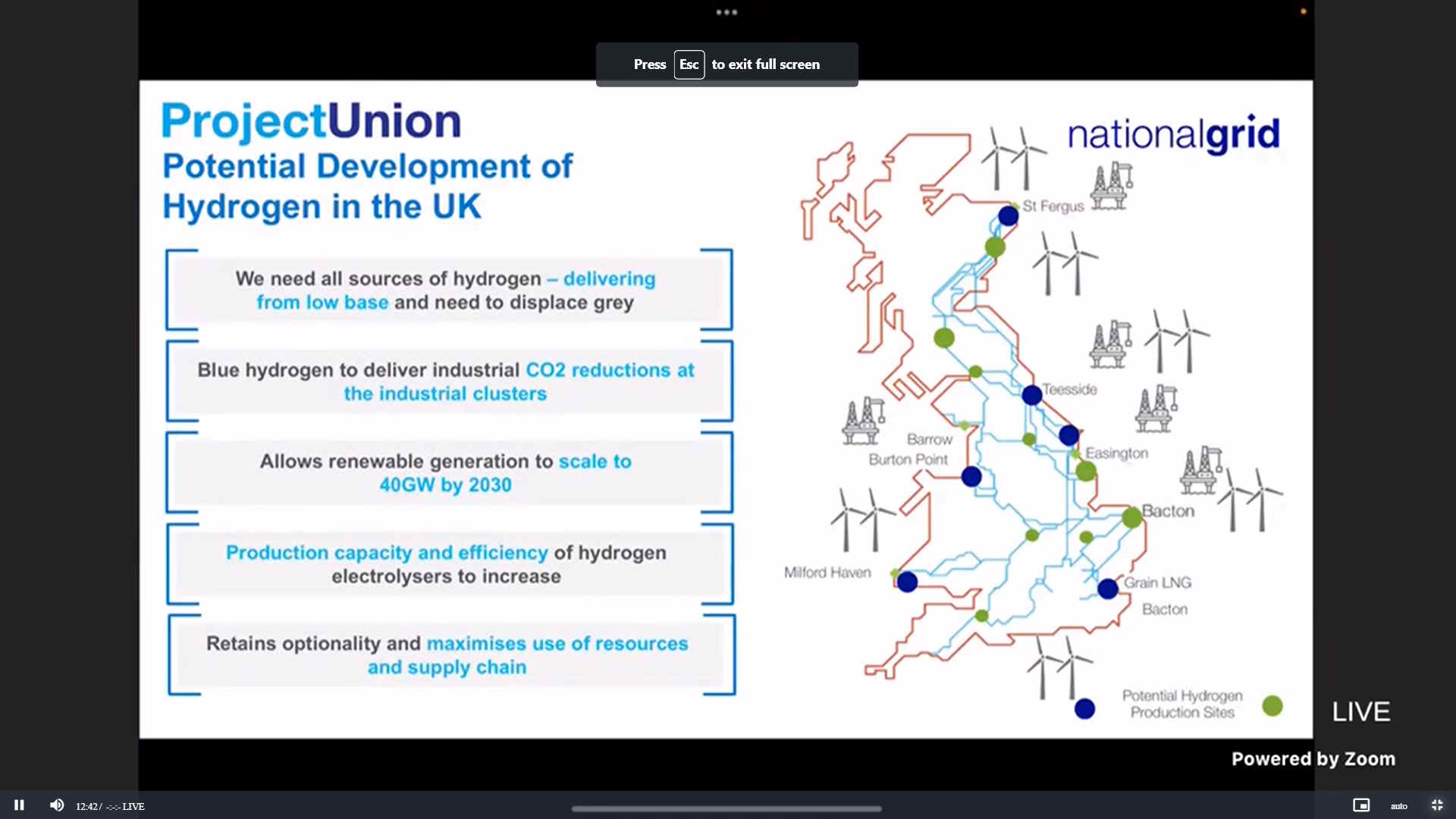 Imagine a means to store electricity as green hydrogen for load levelling of national grids, while also supplying energy for commercial vans and heavy duty trucks. Fuel cells provide a way to convert hydrogen gas into electricity, but on their own they do not represent a solution. Silos are a thing of the past. One way forward is with SmartNet™, a dual-fuel infrastructure system. At the moment just a concept in need of development partners.
This was a very informative series of presentations and panel discussions, with thanks to all contributors for their enlightenment. At the moment there are two camps, blue and green hydrogen. Both methods have merit, blue in the short term, green as a sustainable long term solution - in the creation of a circular economy.
It is heartening to see so much development taking place in the UK. Apart from the difficulty of converting either fossil fuels (with carbon capture) to hydrogen for industrial use or home heating. This is in the form of producing and H2 pipelines, to deliver such energy. Cost being a major issue in competing with coal and gas, with wildly varying estimates in dollar terms for a kilogram of hydrogen.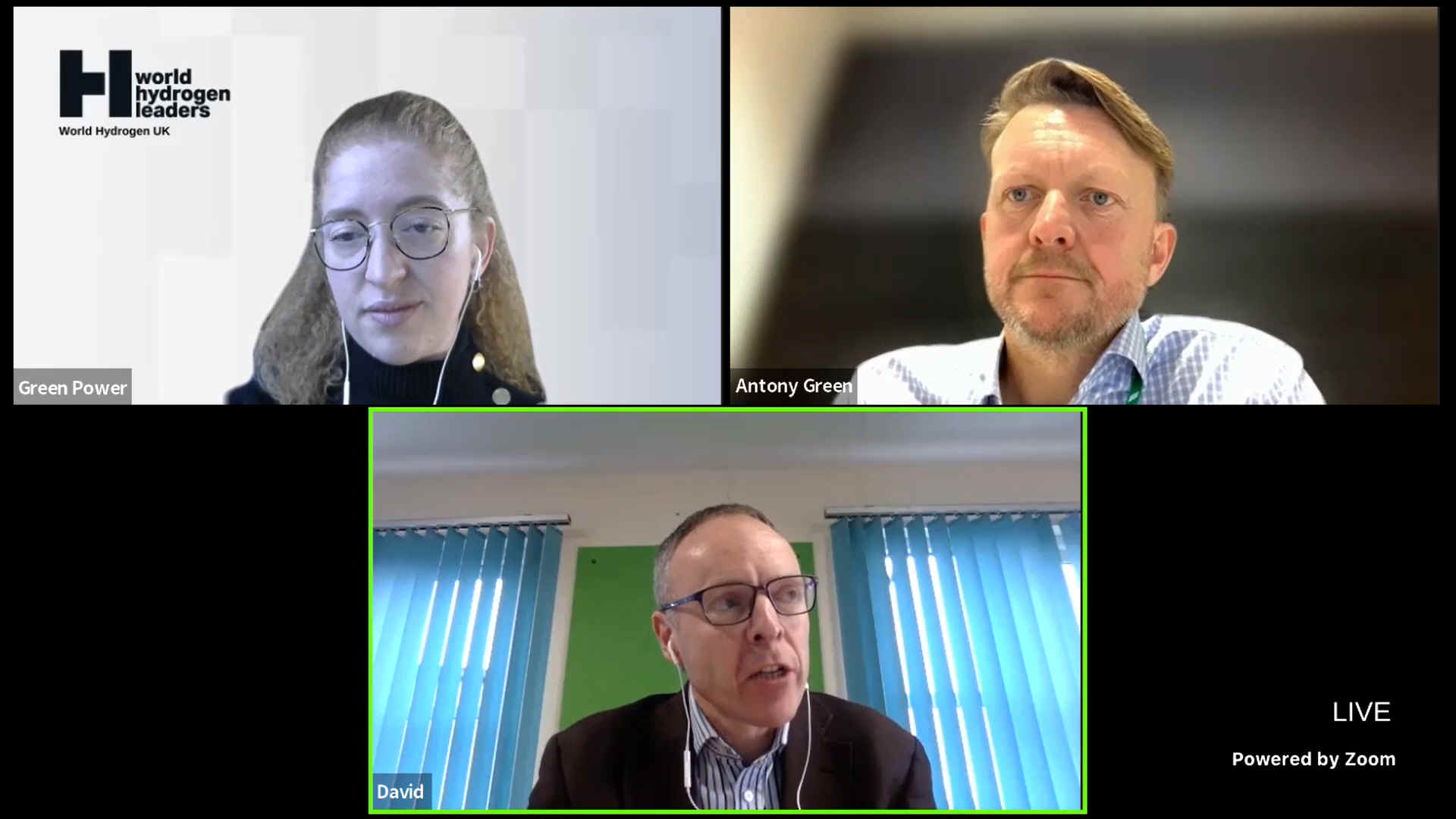 UK HYDROGEN CASE STUDIES - 10:50 AM - 11:40 AM session
Megan Farbrother - Green Power Global
David Parkin - Director at Progressive Energy &
Tony Green - Hydrogen director at National Grid.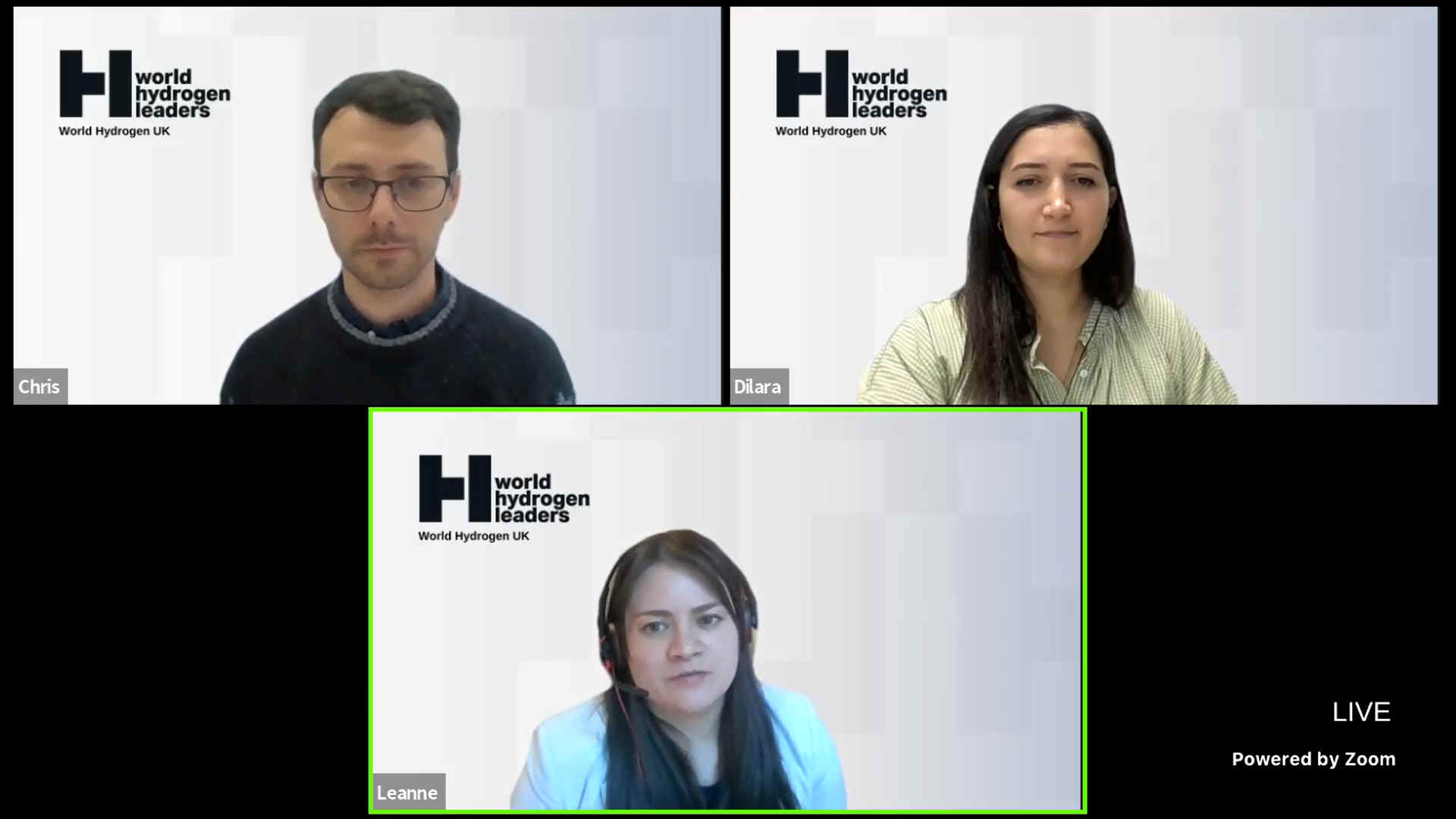 THE ECONOMICS OF HYDROGEN 12:40 PM - 01:25 PM SESSION
Welcome to the final session: Panel Discussion: Capacity Development Deep Dive – How well prepared is the supply chain to deliver on the hydrogen plan? If you have any questions for our panel, please send them via the Q&A tab! Various questions were raised and discussed on the following topics.
1. What needs to be done for UK Hydrogen to reach cost parity with other fuels? 2. What is the roadmap for driving efficiency in production? 3. What role will retrofitting existing infrastructure play in the cost-effective production, storage and distribution of Hydrogen?
Zoom conference by:

Dilara Caglayan, Senior Associate, Aurora Energy Research
Leanne Bloor, Consultant, Energy Storage and Hydrogen Services, Black & Veatch
Chris Gent, Policy Manager, Carbon Capture and Storage Association
It is early days, but we are running out of time is we are to stand a chance of slowing global warming. Policy makers need to keep in mind that the quick fixes to make the UK look as if it is achieving its target will founder, unless their is investment now, in the longer term solutions. The ones that are sustainable. The blue hydrogen proposals using carbon capture, is meaningless and potentially wasteful of energy in the need to capture and store carbon, that need not be created if renewables were implemented. And, carbon capture (or offset) has proved ineffectual on the Drax biomass generating station - as an example. Because, they have not planted the trees as required, to generate any offset.
CLEANER OCEAN FOUNDATION INPUT
Our special projects manager, Nelson Kay, attended three of the many events at this conference, sharing information using the 'Chat' function in Zoom live as per the items below, responding to the speakers comments.
Nelson Kay: "Hi to All, We are keen to promote hydrogen awareness for land and water vehicles. If anyone is interested, please see: http://jules-verne.org/ growth@blue-growth.org We'd like to see flatpack service stations as hydrogen stores and filling of EVs, including smart load levelling."
"Load levelling of renewables, from off peak, to peak using smart tech, helps to lower the cost of supplying both hydrogen (green & blue) and electricity. Hence, the flatpacks station concept: SmartNet"

"Without low cost outlets, hydrogen is somewhat restricted to heating, whereas transport infrastructure is a major hurdle in transitioning to a hydrogen economy. Electrolysers are key to making this work. Will discuss under cover of NDA, if anyone wants to learn how the business model might work."

"SmartNet™ service stations incorporate hydrogen storage. We have around 14 stations in the UK at the moment. We need 600,000 stations worldwide. Flatpack units are cheaper to install as a solution to point of sale and storage, for load levelling the grid."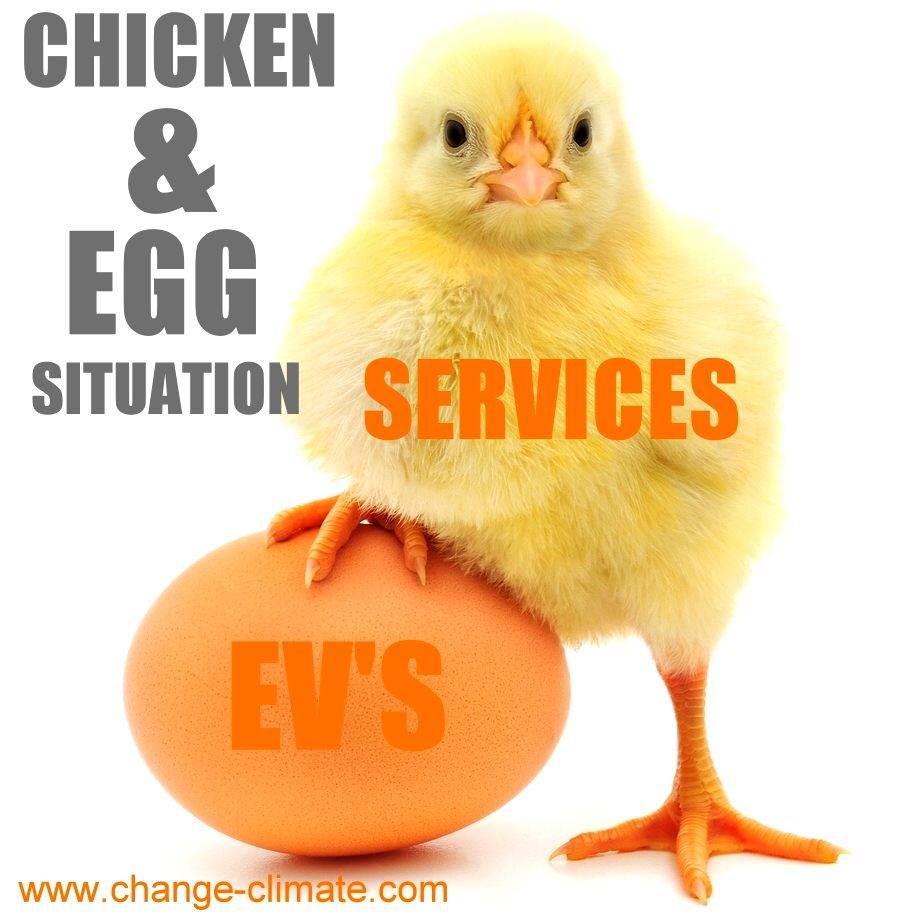 HENRIETTA - thinks she may have something to chirp about. She thinks she may have cracked the 'chicken and egg' conundrum that as of 2021 is stopping more people enjoying zero emission transport. If you are looking for a risk reduced business model, Henrietta's proposal is well worth a look.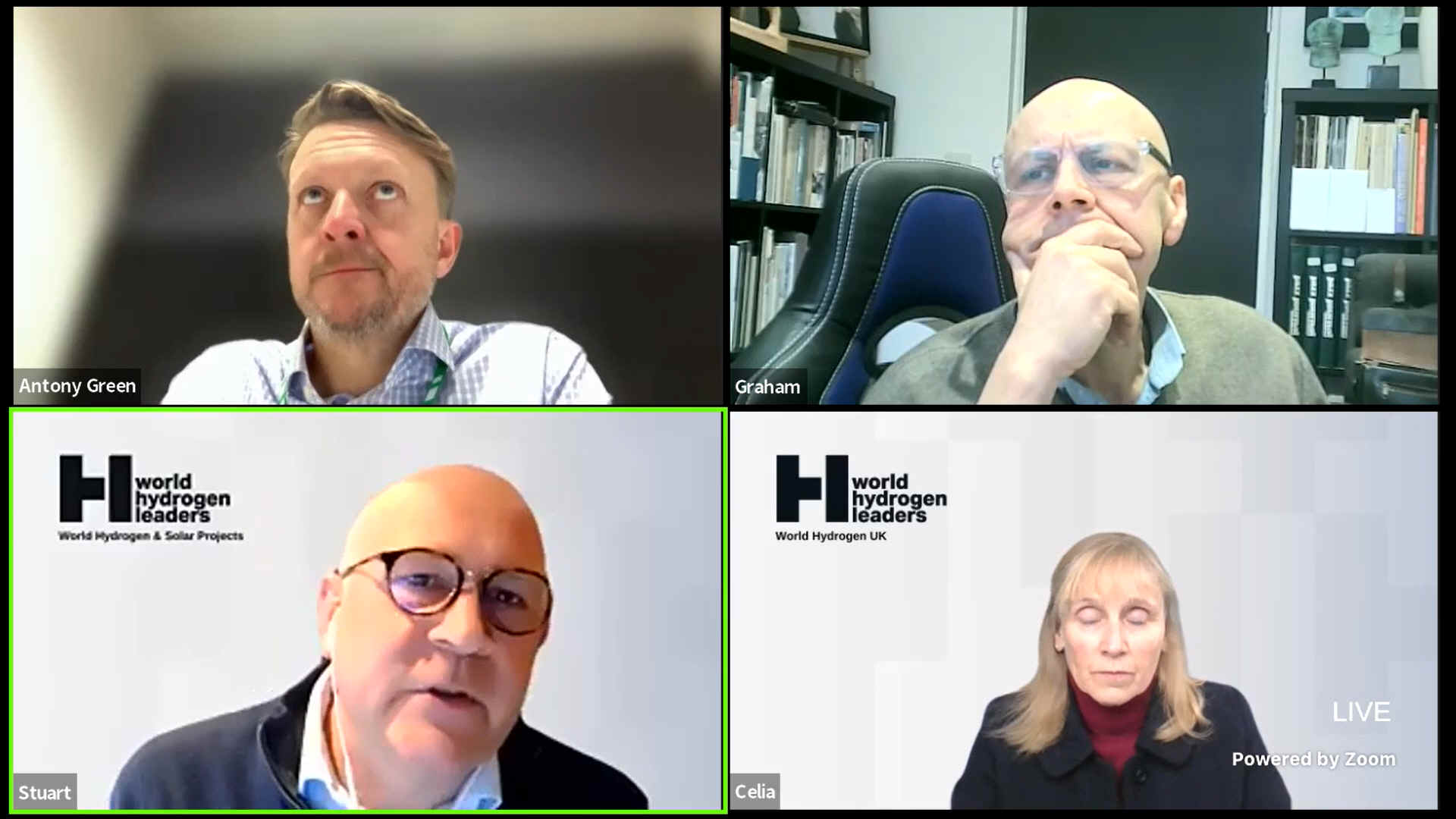 PANEL DISCUSSION, CAPACITY DEVELOPMENT 8th December, 2021 - 01:55 PM - 02:40 PM
Domestic supply chain readiness for a Hydrogen boom - How should we be informing the development of domestic infrastructure with a future roadmap for global trade? The fundamental importance of a joined-up, collaborative, phased approach across policy, production, distribution and use.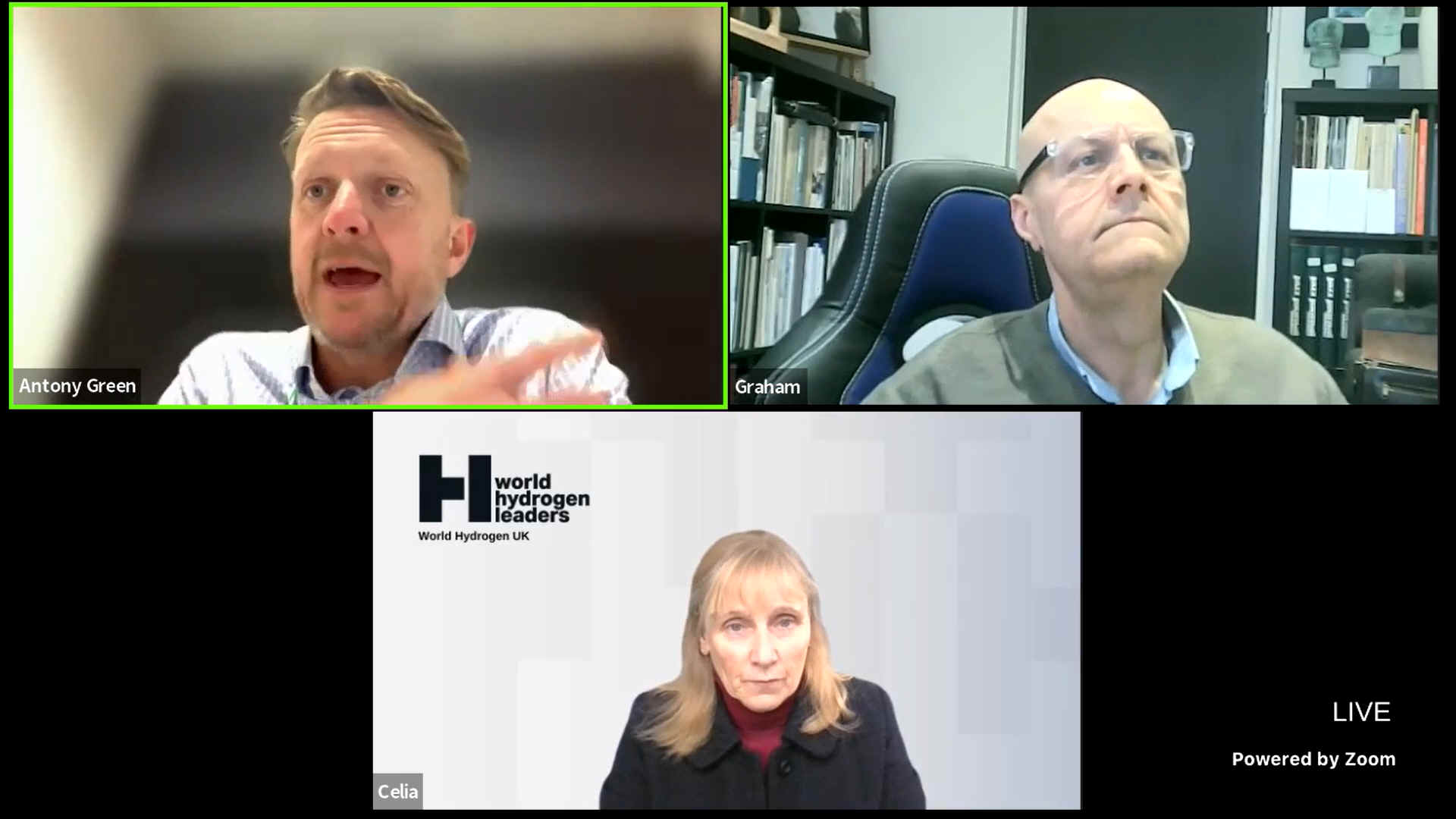 Zoom Panelists:

Stuart Broadley, CEO The EIC / Co-Chair UK Energy Supply Chain Ministerial Task Force
Celia Greaves, CEO, UK Hydrogen and Fuel Cell Association
Graham Cooley, CEO, ITM Power
Tony Green, Hydrogen Director, National Grid
Nelson Kay: No disrespect to Tony Green, and yes pipelines are great for delivering H2 to industry and home, but that does not provide any load levelling capacity. Suitably designed service stations for EVs, can provide that storage, and service FCEVs, while feeding electricity back to the grid when needed.
We call smart service stations: SmartNet. They would be low cost flatpacks, to accelerate uptake and installation. This tech is in the conceptual stage, but provides one possible business model for making it happen.
The good news is, we only need to design the one unit, and demonstrate it. See:
http://www.smartgrids-electricity-vehicles.com/Smart_Networked_Dual_Fuel_Load_Levelling_EV_Service_Stations.htm
Worth considering, but as an SME, we'd need some hefty partners.
Could not agree more with Graham. The infrastructure needed should be joined. The energy supply is interchangeable.
Again, Graham has hit the nail on the head. The future is green hydrogen. The service stations we are proposing are multi-fuel, aimed at renewables and load levelling. Not with silos, but similar effect.

We are keen to promote hydrogen awareness for land and water vehicles. We'll be offering a Trophy, where Jules Verne predicted hydrogen as the fuel of the future in 1874. A nice target for events in the 150th anniversary. If anyone is interested, please see: http://jules-verne.org/

You don't need to re-invent the wheel, just think laterally as to how to use existing technology.

There is huge export potential for the right system. Big thanks to all for great presentations. N

Fuel cells provide a way to convert hydrogen gas into electricity, but on their own they do not represent a solution. They are though, an essential ingredient of the mix, if policy makers are to get their heads around hydrogen gas and electrical energy being one and the same thing, instead of funding calls for one or the other. Nobody in their right mind is going to apply for funding if the calls are not on point. So far, the UK and EU have been very wide of the mark.
LIST OF ATTENDEES - 62 IN ALL
Tommy D - Engineer, Alpha

Marisol Neira - Regional Manager, Yingli

Carlos Lazo - Segment Manager, Roxtec International AB

Barbara Monterrubio - Energy Transition Strategy, globalData

David Gauci - Global lead product quality and testing, Saybolt

Nikolai Guchin - Renewable Energies Development chief, ANCAP

Alfonso Salazar - profesor, instituto politécnico nacional

Lisa Randall - Managing Director, Diffusion Alloys (UK) Ltd

Daren Siddall - Marketing Manager Fuel Cells, Johnson Matthey

Steve Ford - Director, Bluefin Energy

Giovanna Gonzales - Project manager, National Research Council Canada

Kiran Ramakrishna - Operations director, Airstream - almost closed

Hugo Duchemin - Managing Director, COMWORXX S.A.S.

Angela Africano - Strategic marketing leader, GE Renewable Energy

Phil Emsley - Sales Director, Self

Steve Hill - Global Strategic Business Development Director, Bilfinger UK

Timothy Carmichael - Linde Engineering Market development manager, Linde Engineering

Gina Farrugia - Business Improvements, Cross Manufacturing

Lenard-Istvan Csepei - Senior scientist sustainable catalytic processes, Fraunhofer IGB BioCat

Roberto R.I. Aguirre - President, Upstream Services S.A.

Tracey Holmes - Technical Manager, Bibus Metals Ag

Leona Lilford - Technical Sales Executive, Okazaki Manufacturing Company Limited

Bart Van Dijk - Technical Sales Manager, SoluForce

Dario Perdomo - Professor, Universidad de Antioquia

Samantha Nicholson - Hydrogen Lead For Fluor UK, Fluor Ltd

Qingyun Hu - PRM, Bosch

Michael Knudsen - Senior Business Development Manager, Independent

Maria Goula - Professor, University of Western Macedonia

Romain Gérard -
Eric Maina - Project Engineer, McDermott

Stuart Broadley - CEO The EIC / Co-Chair , UK Energy Supply Chain Ministerial Task Force

Graham Cooley - CEO, ITM Power

Celia Greaves - CEO, UK Hydrogen and Fuel Cell Association

World Hydrogen Leaders - Programme Producer, Green Power Global

Rebecca Tonkin - Marketing Manager Green Hydrogen, Johnson Matthey

Anthony Gaffney - Metocean Director EAME, RPS Group

Charley Rattan - Global hydrogen advisor, Charley Rattan Associates

Dominic Winch - Market Analyst, Johnson Matthey

Tania Songini - Non-Executive Director, Thrive Renewables

Antonin Boissin - Consultant, Sia Partners

Ariel Joubanoba - Director, I-Lex Ltda.

Peilin Zhou - Professor, University of Strathclyde

Hasan Nadir - PDG, CME

David Difrancescomarino - Project Manager , Green Power Global

R Brookfield - Commercial Director, Transitional Energy Group

Jeremy Twigg - Director, RGL, World Hydrogen Leaders - Green Power Global

Chris Dhulst - Corporate Innovation Platform Lead Hydrogen, NV Bekaert SA

Frank Niu - VP, Unimicron

Will Murray - Business Development Manager, British Solar Renewables

Dominic Wright - Decarbonisation Lead Business Strategy, Saipem

Simone Stuart-Cole - R&d Partnerships Manager, Offshore Renewable Energy Catapult

Nelson Kay - Special Projects Coordinator, Cleaner Ocean Foundation Ltd

Kevin Watson - Principal Process Engineer, McDermott

Ray McGlynn - Business Development Manager, Renewables, Caley Ocean Systems

Gheorghe Davidovici - na, NA

Chloe Nelson - Graduate Engineer, Fingleton White

Patrice Flot - technical adviser, CMR group

Serena Ditroia - Business Development Officer, ITM Power

Tom Anthony - Strategy & Technology Manager, Oncor

James Collins - zongjin mu engineer, howden

Yu-Ming Lin - Senior Researcher, Industrial Technology Research Institute

Ian James - BD Manager, Freudenberg Oil & Gas Technologies
LINKS & REFERENCE
https://worldhydrogenuk.hubilo.com/
https://worldhydrogenuk.hubilo.com/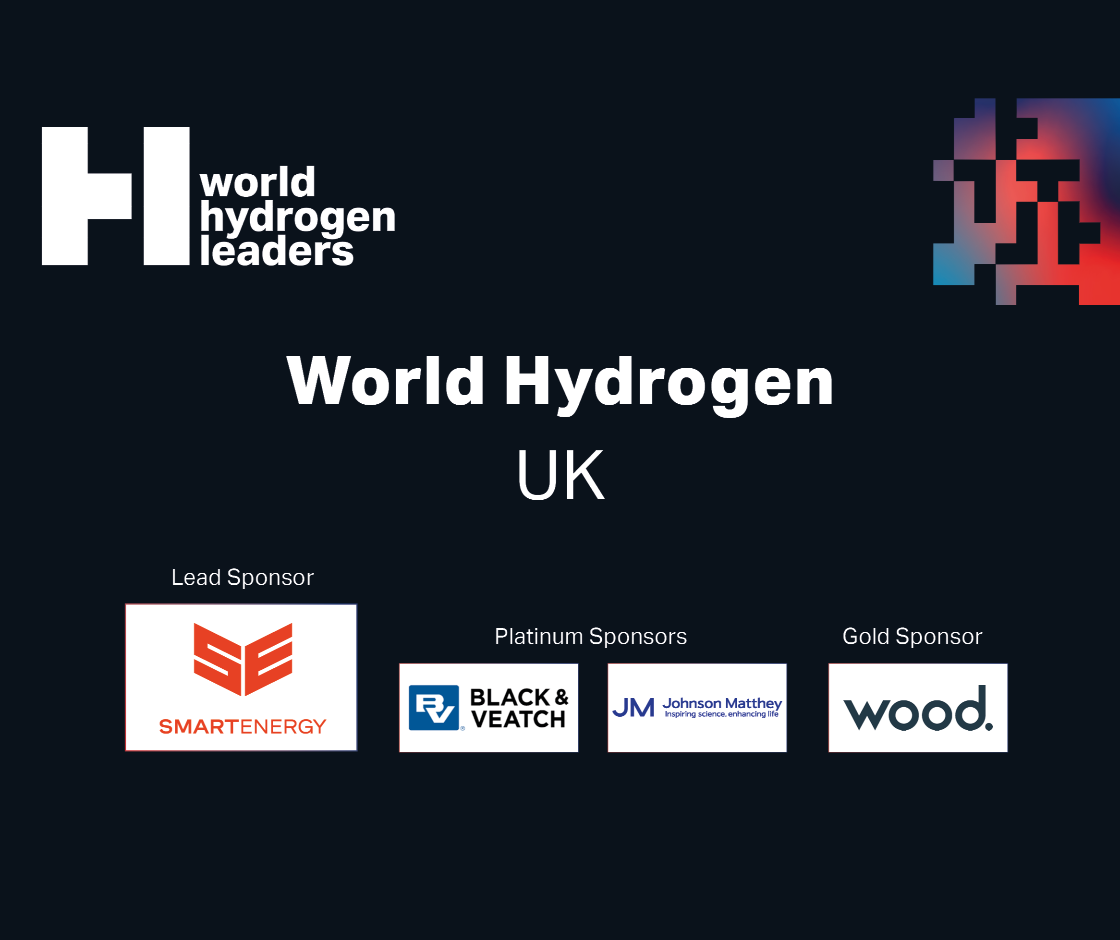 Please use our A-Z INDEX to navigate this site
Copyright © Climate Change Trust & Universal Smart Batteries 2021. Solar Studios, BN271RF, United Kingdom.