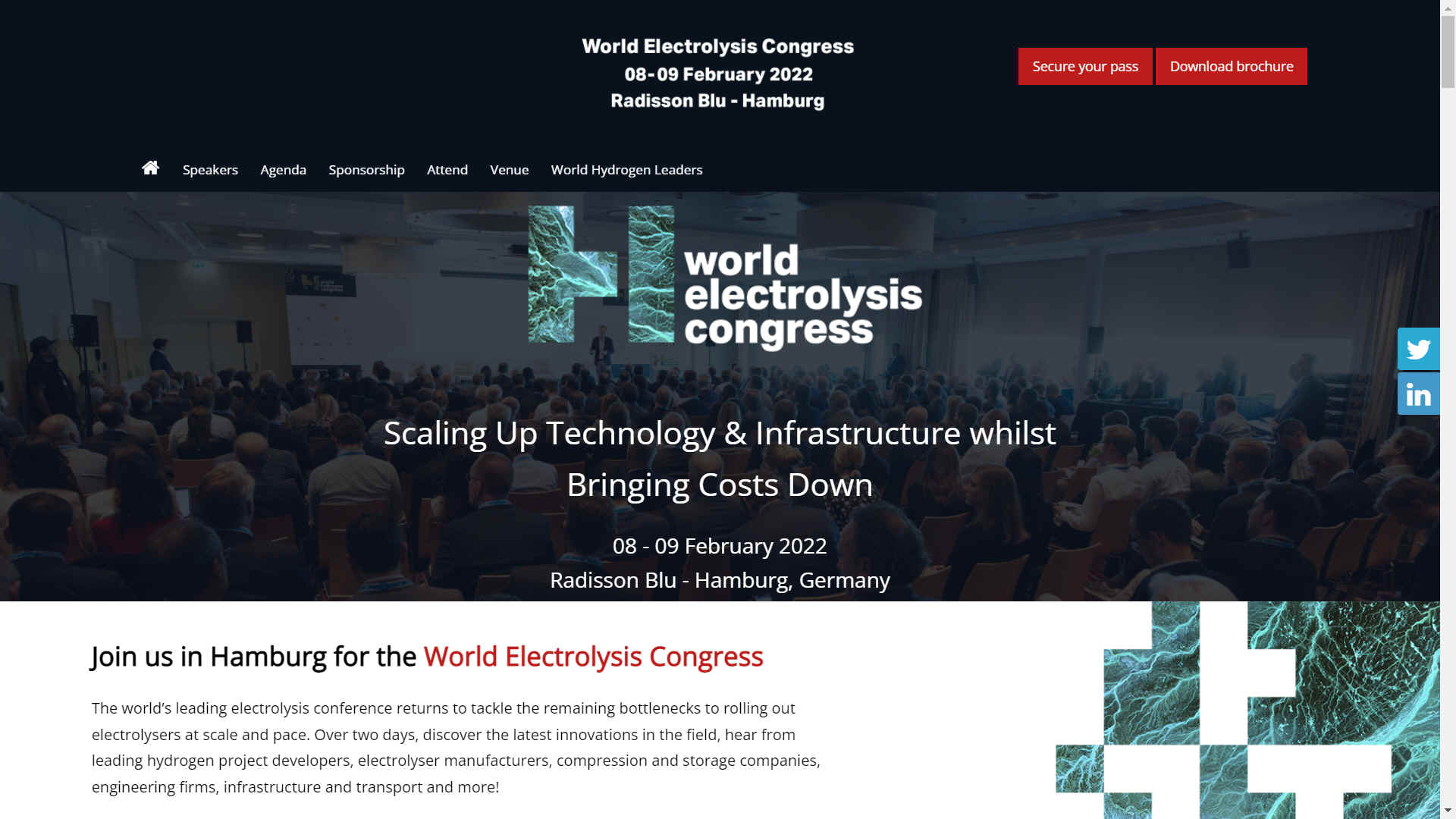 As part of Green Power's Conference, the Electrolysis Congress builds on the World Hydrogen Conference
Electrolysis is the cornerstone of what many see as a very necessary hydrogen infrastructure, that is at the moment about as incomplete, as it can be. But there is hope, that as BEVs become more popular, dual fuel service stations might finally see the light of day, leading to FCEV popularization.

HOW MIGHT THAT WORK ?

For green hydrogen to become cost competitive by 2030, electrolyzer technology needs to become more efficient and available in suitable size packages, so that independent's and energy corporations, might enjoy a relatively risk free, investment - with baseline load levelling to underpin loan repayments. Enter, the proposed SmartNet flatpacks.
The Cleaner Ocean Foundation is seeking to overcome the key barriers to infrastructure building, where the market is virtually untouched, to maximise opportunities for entrepreneur investors. Aiming to help governments and their national grids to find solutions.
ABOUT THE WORLD CONGRESS

Join what looks to be the world's leading electrolysis conference in Hamburg in 2022 to get your year off to a flying start. Building on the World Hydrogen Conferences.

The world's leading electrolysis conference returns to tackle the remaining bottlenecks to rolling out electrolyzers at scale and pace. Over two days, discover the latest innovations in the field, hear from leading hydrogen project developers, electrolyser manufacturers, compression and storage companies, engineering firms, infrastructure and transport and more!

- Understand how the hydrogen sector can ramp up the rollout of large-scale electrolysis plants

- Where should we take a decentralized modular approach?

- How can we unlock the cost curve and greatest efficiencies of PEM, Alkaline, Solid Oxide and other technologies?

- Debate how manufacturing capacity, grid infrastructure and transportation will be ready to cope with large quantities of hydrogen

Why is this congress important?
To make green hydrogen affordable for all nations, production costs need to be cut. The cost of renewable energy is declining, and technology is evolving, but there is still a long way to go to meet future electrolyser demand. Oxford based analytical firm, Aurora Energy Research, estimates that electrolyser capacity needs to see a one-thousand-fold increase by 2040. World Electrolysis Congress will bring together project developers and technology experts to tackle the challenges of scaling up the technology and the production plants to meet the 213.5GW planned for delivery by 2040.

We are the only event focusing on the production, scale-up and operation of electrolysers. Meet the experts, engage in debates, and discover innovative technologies for your projects. Once scale-up takes place, green hydrogen will become competitive and affordable, and carbon emission reduction targets can be met. So, join us to accelerate the transition to clean hydrogen!

The World Hydrogen Leaders have spent the last 12 months researching and connecting with the most outstanding influencers in the hydrogen industry to bring you the highest calibre of speakers. Discover more about our faculty of speakers below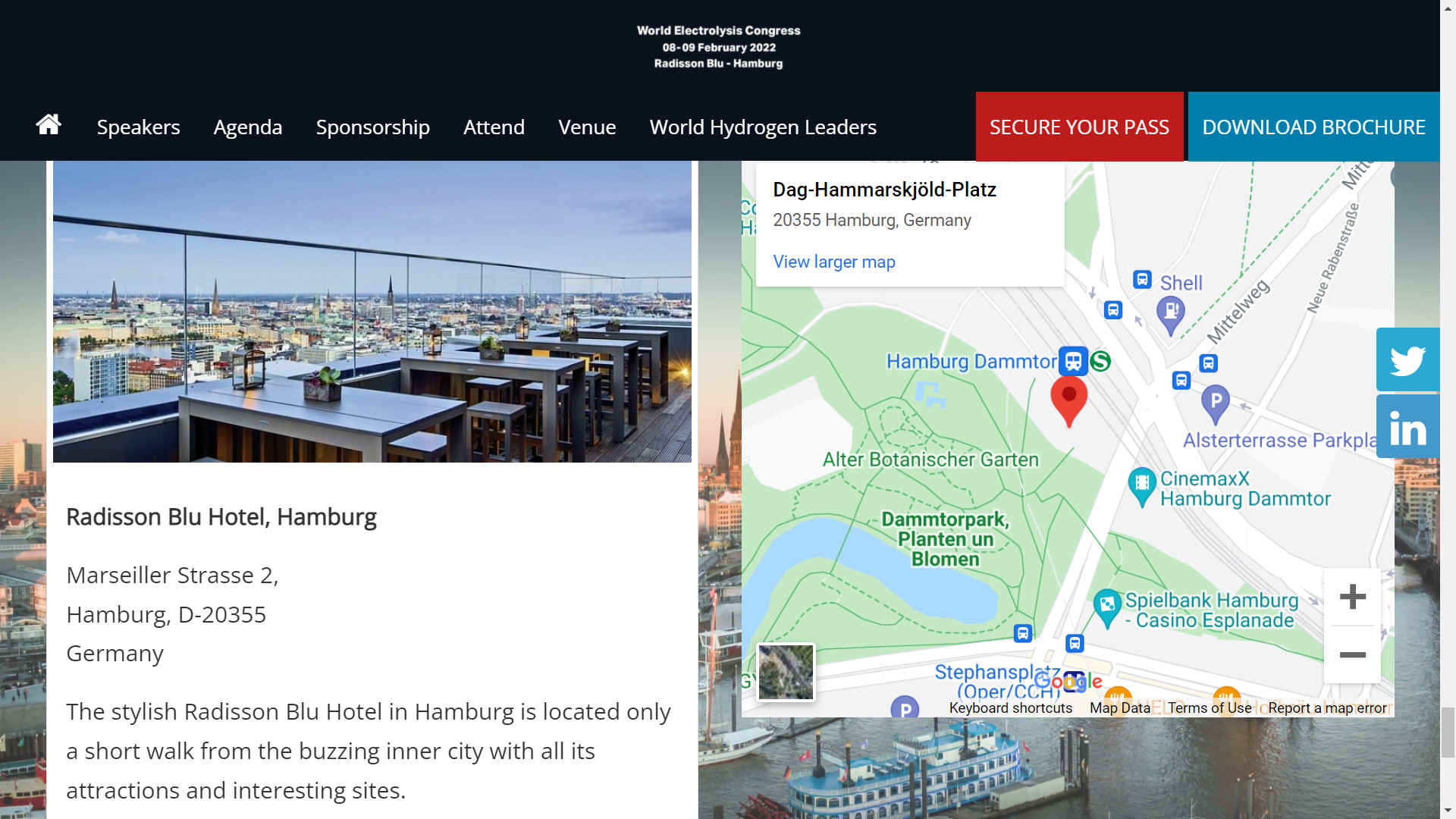 WHERE ?

The stylish Radisson Blu Hotel in Hamburg is located only a short walk from the buzzing inner city with all its attractions and interesting sites.

Raddison Hotel Group are industry pioneers in sustainability. In 1989, they were a part of the first hotel group in the world to adopt an environmental policy. Afterwards, they began to define clear Think Planet targets to reduce our environmental footprint and measure progress.
In 2017, the Radisson group also committed to the hotel industry's Sustainable Hospitality Alliance 2030 goals, a call to action and a consensus for a sustainable industry to drive action on climate change, water stewardship, human rights, and youth employment. At Radisson Hotel Group, they have analyzed their Responsible Business commitment against the UN Sustainable Development Goals, they are part of the Global Reporting Initiative and they have signed the UN Global Compact Compliance and the UN CEO Water Mandate.

Radisson Blu Hotel, Hamburg
Marseiller Strasse 2,
Hamburg, D-20355
Germany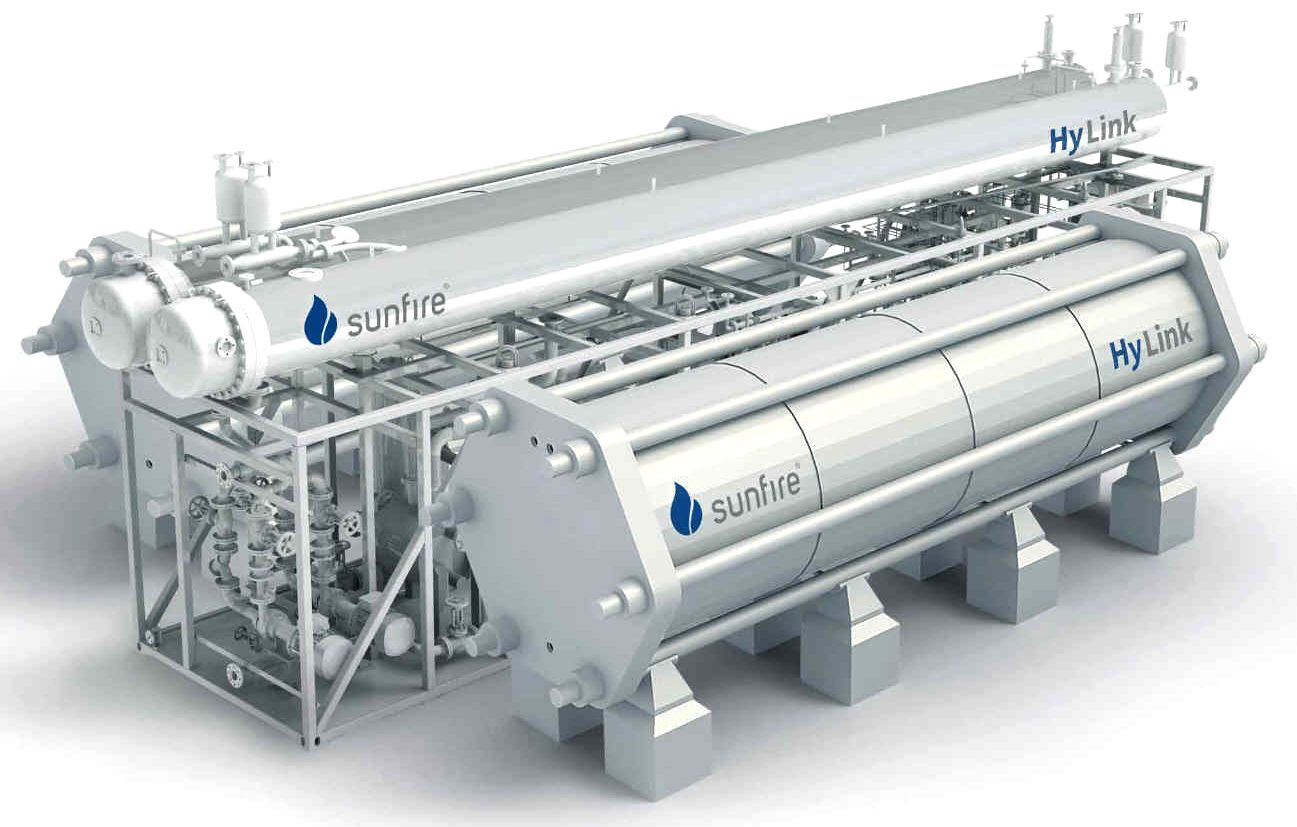 Sunfire's pressurized Alkaline electrolyzer boasts a lifetime of around 90,000 operating hours. The electrolyzer has a scalable system design. One system produces 2,150 Nm³/h hydrogen at 30 bar(g) with a power consumption of 4.7 kWh/Nm³, under normal conditions of 0degC and 1 atm (standard atmosphere = 101.325 kPa) – for practical purposes this is rounded to 1 bar.

CONTACTS
Jonathan Hull
Head of Delegate Sales
jonathan.hull@greenpowerglobal.com
or +44 (0)203 355 4207.

Lucy Rankin
Programme Director & Community Manager
lucy.rankin@greenpowerglobal.com
+44(0) 20 3355 4216
Marketing Manager
alex.sanchez@greenpowerglobal.com.
www.worldhydrogenleaders.com

Oliver Sawyer
Sponsorship Director
World Electrolysis Congress
T: +44(0) 20 3355 4208 C: +44(0) 78 255 17063
E: oliver.sawyer@greenpowerglobal.com

+44 (0)20 7099 0600
Green Power Conferences Ltd.
China Works, Black Prince Road,
Vauxhall, London,
SE1 7SJ
UK Registered Company: 06601648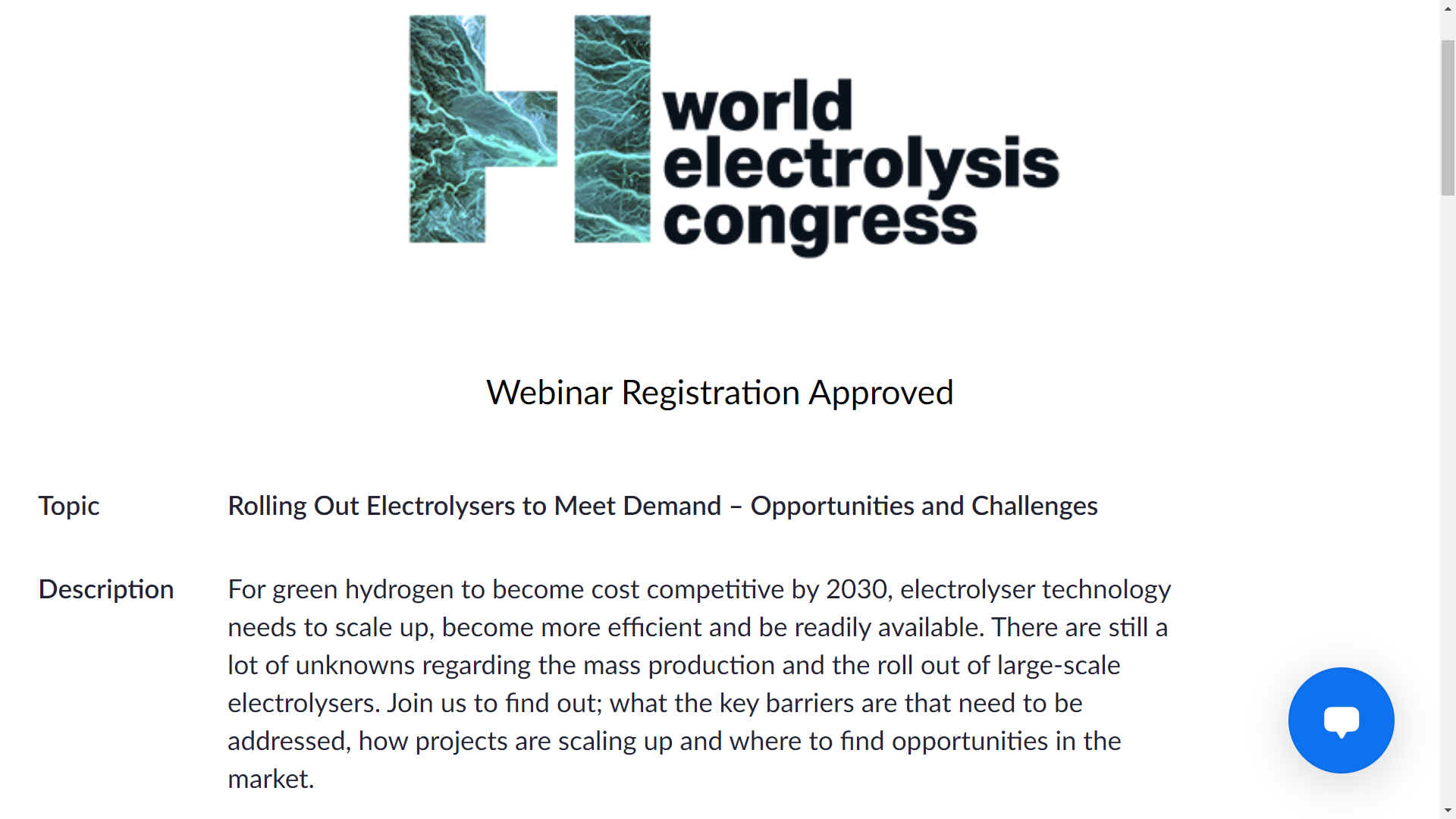 LINKS & REFERENCE
https://www.worldelectrolysiscongress.com
Please use our A-Z INDEX to navigate this site
Copyright © Climate Change Trust & Universal Smart Batteries 2021. Solar Studios, BN271RF, United Kingdom.