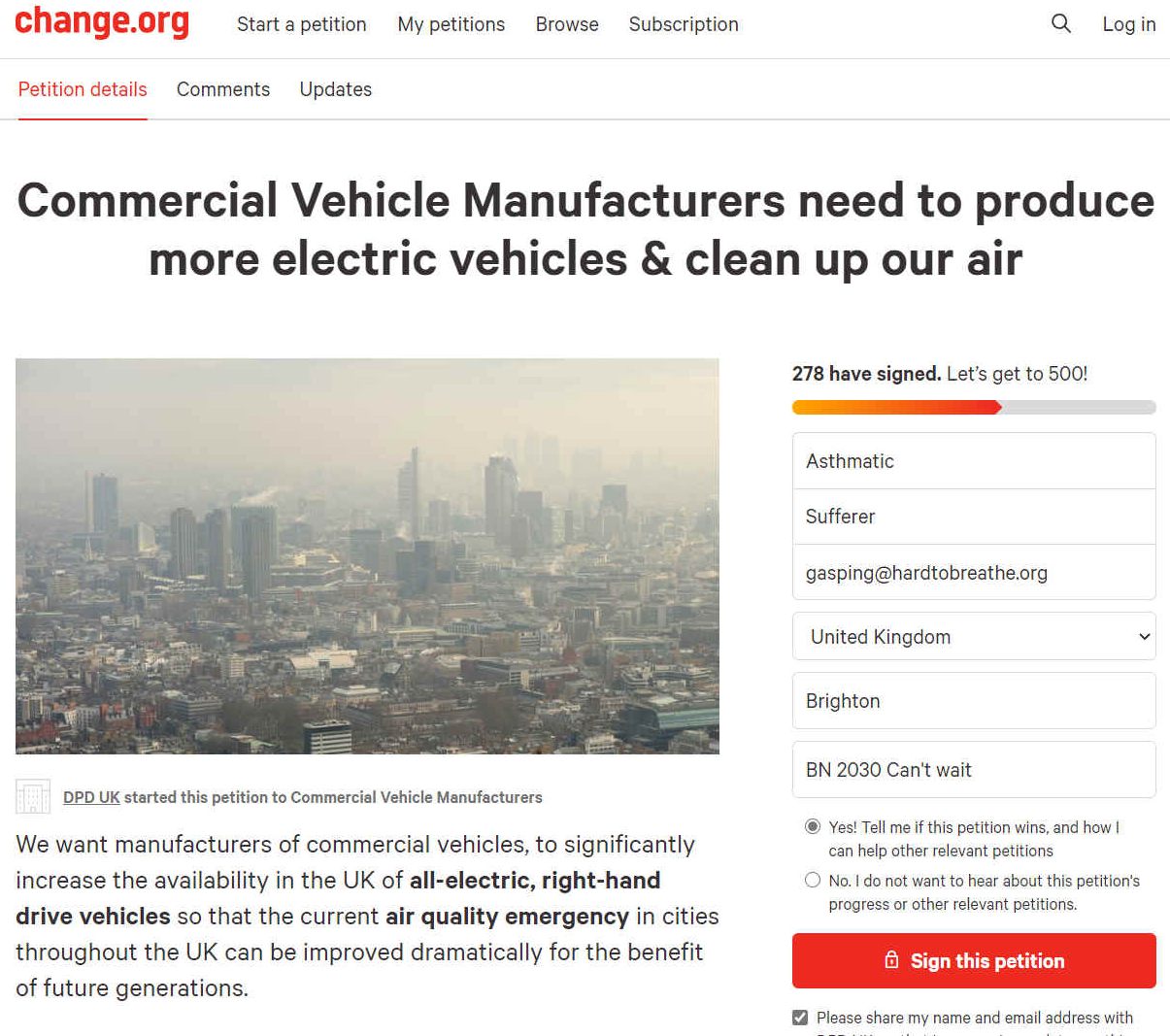 PETITION FOR CHANGE - Commercial Vehicle Manufacturers need to produce more electric vehicles & clean up our air

We want manufacturers of commercial vehicles, to significantly increase the availability in the UK of all-electric, right-hand drive vehicles so that the current air quality emergency in cities throughout the UK can be improved dramatically for the benefit of future generations.

With an increase in the number of all-electric, commercial vehicles available, companyís like DPD will be able to more quickly change their fleet from being diesel dependent to zero-emission electric, and able to deliver parcels in our cities in the most efficient emission-free way possible.

By signing this petition you are asking Motor Vehicle manufacturers to back targets to produce more right-hand drive, all-electric commercial vehicles and help to clean up the air in our cities, now.

It's clear we need urgent action and for manufactures to show leadership and do whatever they can to improve the supply of electric commercial right-hand drive vehicles at a commercially viable cost to bring about a massive and immediate change in our air-quality now, not many years down the line.

Thank you for supporting this crucial change and helping to bring about immediate improvements in air quality in cities throughout the UK.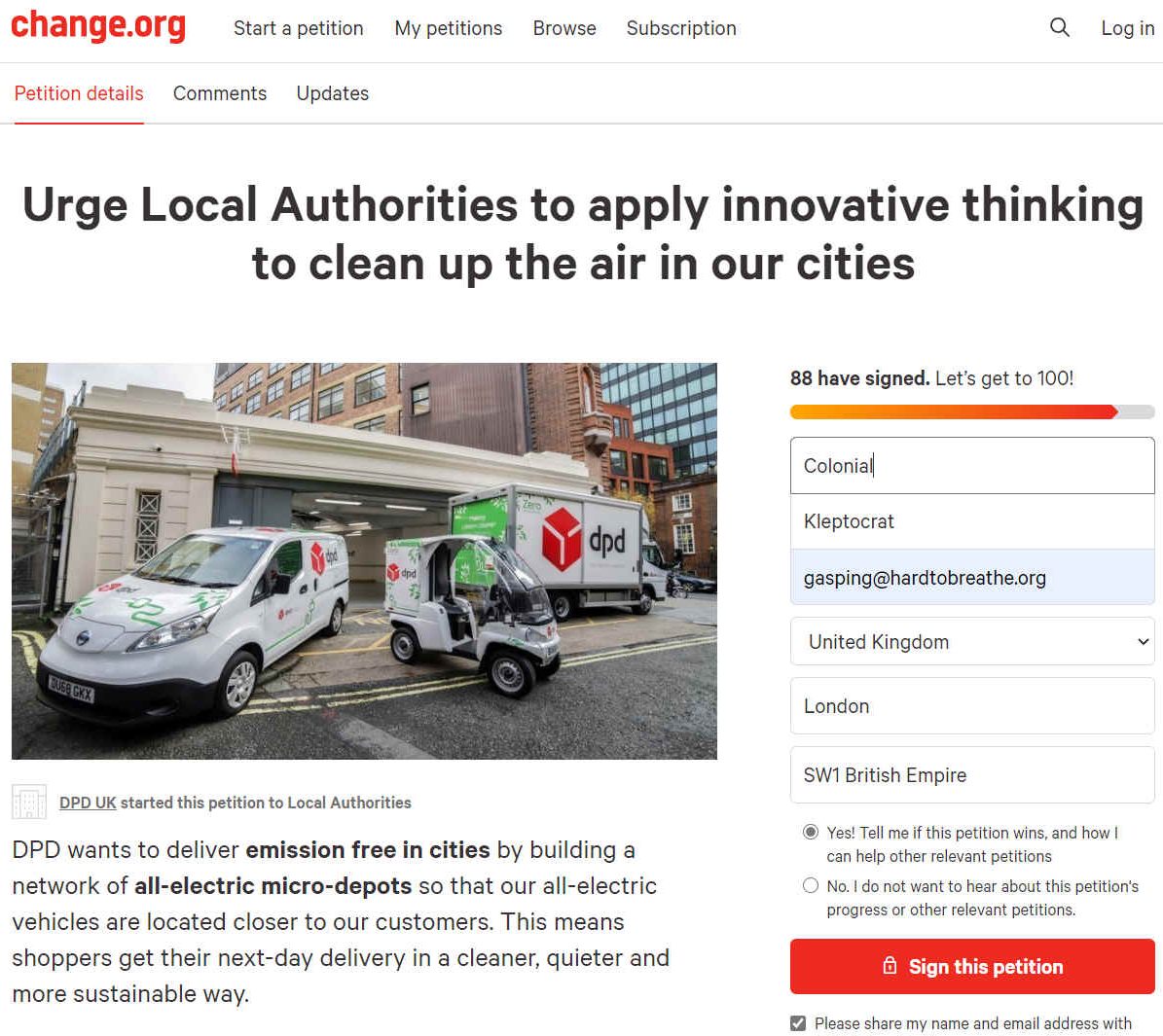 LAND PRICES TOO HIGH - Urge Local Authorities to apply innovative thinking to clean up the air in our cities

DPD wants to deliver emission free in cities by building a network of all-electric micro-depots so that our all-electric vehicles are located closer to our customers. This means shoppers get their next-day delivery in a cleaner, quieter and more sustainable way.

The type of properties we need to convert to micro-depots are hard to get in our city centres because of the high demand for the land or buildings for business and residential use.

To help us create an all-electric micro depot network we need stakeholders, and property companies to give us access to new city-centre locations

Some people might ask why not take delivery depots out of the city, but that isnít the answer as it just means vehicle have to drive longer distances and we have to use more of them, so there would be more vehicles on the road. What we want is fewer vehicles with more parcels onboard and a micro-delivery depot network is the best way to facilitate this.

We will set the standard in sustainable delivery and weíll look at underground car parks or any other site local authorities can offer, we are really thinking out of the box to find answers to clean, green urban delivery.

And itís not just about London, we want to work closely with local authorities up and down the country to develop a network of city centre final mile micro- depots.

Please support our petition to urge Local Authorities to help DPD use alternative city-centre locations to provide all-electric, cleaner and greener delivery.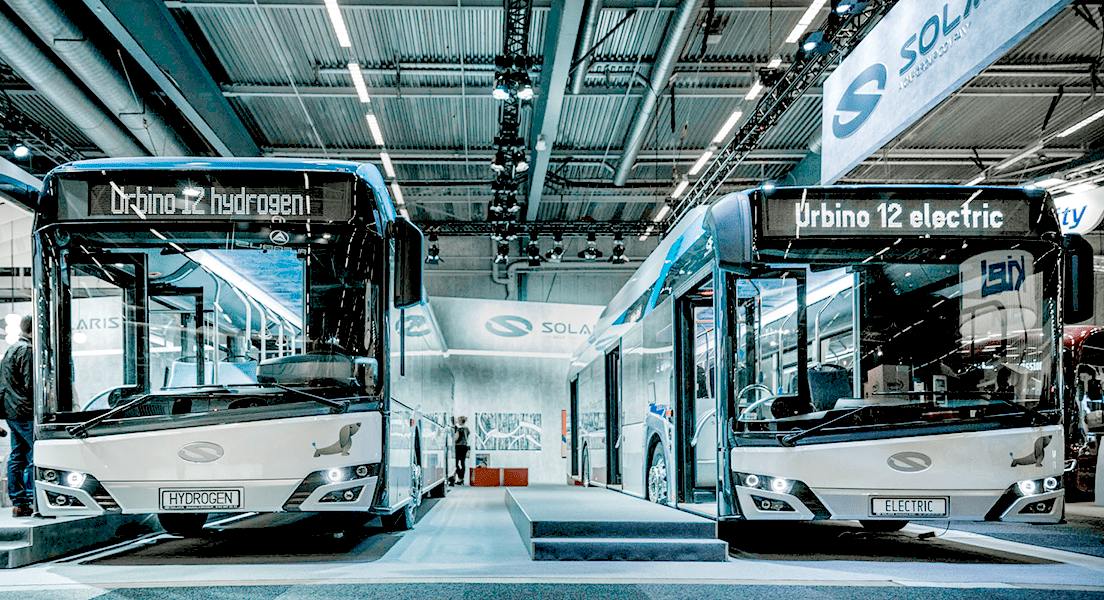 Hydrogen powered electric buses are becoming very popular. With exchange refuelling using high pressure gas cartridges, or liquid hydrogen cartridges, coaches and trucks might have unlimited ranges. We hope this is a topic of discussion at the forthcoming UN COP 26 in Glasgow, Scotland in November 2021.
LINKS & REFERENCE
https://
Please use our A-Z INDEX to navigate this site
This website is provided on a free basis as a public information service. copyright © Climate Change Trust 2021. Solar Studios, BN271RF, United Kingdom.